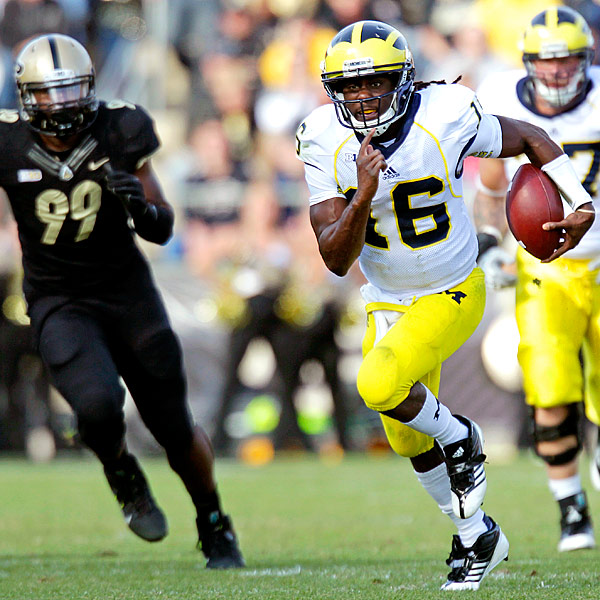 Denard Robinson had 235 rushing yards and 1 passing touchdown in the 44-13 win

Michigan's defense is awesome or Purdue's offense is terrible.
I couldn't figure out which it was. I'm leaning toward the latter, really, because Purdue found it necessary to try three different quarterbacks and a bunch of trick plays. Don't get me wrong - Michigan's defense looked good. But Purdue couldn't do anything with consistency. A couple trick plays turned out fairly well, and Robert Marve's first few plays were productive. But otherwise, they just don't look like an offense that should scare any decent defensive teams.
I'm officially concerned about Fitzgerald Toussaint and the running game.
Toussaint (17 carries, 19 yards, 2 touchdowns) looks slower this year, quite frankly. He also looks like he's dancing too much instead of burrowing forward for a couple yards when he can. Of course, it starts with the offensive line, and I haven't been impressed this year with what the offensive line is doing. None of the offensive linemen has taken a step forward this year, in my opinion. Taylor Lewan has taken a step backward, and the other guys are just average. Obviously, Denard Robinson (24 carries, 235 yards) was great, but the offensive line can't open holes for the running backs. Even Thomas Rawls, who had good numbers (4 carries, 33 yards, 1 touchdown), had to break tackles at the line of scrimmage to get anything done.
The broadcasters were terrible.
One of them called it a "flea flicker" when Robert Marve hit a wide receiver on a hitch, then tossed it backward to the running back coming out of the backfield. That's a "hook and lateral." I thought the dumb interpretation of that was "hook and ladder" but the BTN guys took it one notch stupider. Also, there was no way that Denard Robinson was down at the 1-yard line on the play they reviewed. Even if the officials determined that Robinson's elbow hit the ground prior to the ball crossing the plane of the end zone, the ball should have been placed at about the 2-inch line. I couldn't believe that the refs didn't change the spot of the ball (or award the touchdown), but the announcers didn't point it out, either.
Raymon Taylor had an okay game.
Taylor hasn't lit the world on fire and did get beaten on a slant for a touchdown, but I have to give credit where credit is due. This was his second consecutive game with an interception, and he returned this one 63 yards for a touchdown.
Denard Robinson zone read anger.
Twice in this game, Robinson held onto the ball too long before pulling it out of the running back's stomach. The first time it worked okay for him because he gained a bunch of yards, even though his running back (Toussaint or Smith, I can't remember) got smoked. The second time it was disastrous because he got Smith crushed and, oh yeah, Robinson fumbled the ball in the process. He gains a lot of yards because he's a dynamic runner, but he's never been adept at running those plays.
I'm really liking the linebacker crew.
I thought Jake Ryan (6 tackles, 2 tackles for loss, 1 sack), Kenny Demens (6 tackles), and Desmond Morgan (6 tackles, 2 tackles for loss) all played very well. There's not much experienced depth, but the guys backing them up are pretty good, too. I like James Ross as a prospect, but I don't think anyone can really justify the talk about Morgan getting passed. Michigan should be able to field a pretty good inside linebacker crew next year from some combination of Morgan, Ross, and Joe Bolden, not to mention a few other good linebacker prospects.
I liked the game plan.
If Denard Robinson can throw the ball fewer than 20 times a game, that's probably a good thing. Between good defense and running the ball well, the game wasn't on Denard's throwing shoulder. Offensive coordinator Al Borges said that he re-evaluated his play calls from the past couple seasons, and he seemed to conclude that throwing the ball with Denard is a bad idea. Good for him. Robinson still missed a wide open Fitzgerald Toussaint on a swing pass that would have gained a first down and had a couple other questionable throws, but a 50% completion percentage isn't so terrible when you're only throwing the ball 16 times.