Friday, August 1, 2014
Enjoy the beginning of your weekend with some beautiful ladies, including a Danielle Lo gif.


Posted by

Thunder
at 10:00 PM
No comments:
Links to this post


Posted by

Thunder
at 9:30 PM
No comments:
Links to this post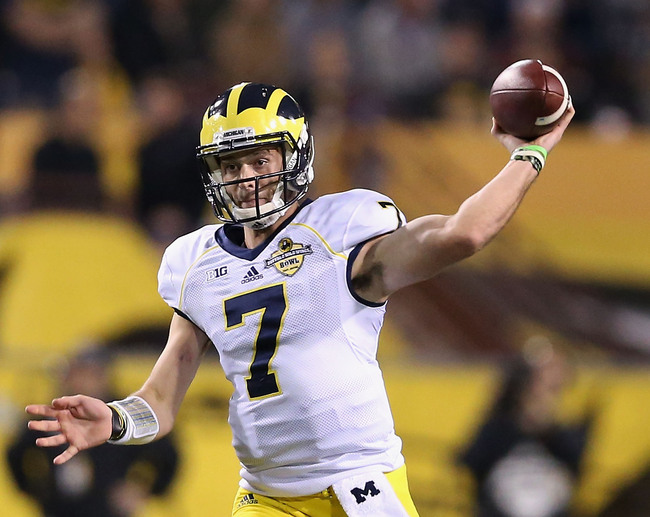 Shane Morris
Name:
Shane Morris
Height:
6'3"
Weight:
204 lbs.
High school:
Warren (MI) De La Salle
Position:
Quarterback
Class:
Sophomore
Jersey number:
#7
Last year:
I ranked Morris #44 and said he would be the backup quarterback
. He started one game, played in five games total, and was 29/47 (62%) for 261 yards, 0 touchdowns, and 2 interceptions. He also ran 6 times for 40 yards.
Morris had the type of season one would expect from a freshman backup quarterback. He looked promising at times, and he looked embarrassingly unprepared at others. He saw his first action in week one against Central Michigan, going 4/6 for 59 yards and 1 pick after Michigan had a substantial lead. His next notable amount of play came against Michigan State, which went poorly for everyone; after starter Devin Gardner was beaten up sufficiently to exit the game, Morris went 1/3 for 6 yards and when a lane opened up for him to scramble, he slipped on the wet field and face-planted. He didn't see notable time again until the Buffalo Wild Wings Bowl, which he started due to Gardner's foot injury. Morris finished that game 24/38 for 196 yards and 1 interception, plus 4 carries for 43 yards (including a 40-yard quarterback draw).
Some people are insisting that there's a quarterback controversy at Michigan between Gardner and Morris. I do not believe that for one second. I think Morris is good enough to push Gardner, but that doesn't mean there are questions about which one is better right now. Gardner has been starting at Michigan for the better part of the last 1.5 years, he has set records as a passer, and he's one of the top few athletes at the quarterback position in the country. Last year he was bogged down by poor decision-making in the first half of the year, but at no point has Morris looked superior. Morris has a cannon for an arm, better athleticism than many expect, and seems like a pretty solid decision-maker. He does, however, need to work on his accuracy and reading of defenses, both of which will probably be helped by new offensive coordinator and quarterbacks coach Doug Nussmeier. Like most backup quarterbacks, I don't think Morris will play much expect for in garbage time or if Gardner gets injured again, but he's the best option and ahead of redshirt junior Russell Bellomy and freshman Wilton Speight.
Prediction:
Backup quarterback
Posted by

Thunder
at 8:35 AM
27 comments:
Links to this post


Thursday, July 31, 2014
Posted by

Thunder
at 10:00 PM
6 comments:
Links to this post


Jourdan Lewis
Name:
Jourdan Lewis
Height:
5'10"
Weight:
175 lbs.
High school:
Detroit (MI) Cass Tech
Position:
Cornerback
Class:
Sophomore
Jersey number:
#26
Last year:
I ranked Lewis #71 and said he would play on special teams
. He played in all thirteen games and had 17 tackles and 2 pass breakups.
Coming out of high school, Lewis looked slight and physically unready to play college football. When fall camp rolled around, he was 170 lbs. and looked the part of a guy who could see a little bit of time on the field. It became apparent in the middle of the season that Lewis has the coverage chops to make it at this level. He stuck to receivers well, and even on completed balls, he was rarely more than a step away. At times it took a perfect throw to beat him. By the time spring arrived, rumors were persisting that Lewis had supplanted Blake Countess as one of the starting cornerbacks. Then Lewis proceeded to make two interceptions of Devin Gardner in the spring game.
I do not believe that Lewis will start at corner this year, unless someone gets injured. Countess is an All-Big Ten player, and fellow corner Raymon Taylor has been starting for a couple years. What Lewis offers is the ability to come off the bench and play like a starter. He has good speed and awareness, and he can break on the ball as well as anyone on the team. He could also play in nickel situations. Michigan has a glut of cornerback options with Countess, Taylor, Lewis, Channing Stribling, and incoming freshman Jabrill Peppers, who has been reportedly been calling himself a safety while head coach Brady Hoke publicly insists he'll play nickel corner. I'm only half-joking when I say that Michigan's best lineup against the spread might be a dime look with four (or three) defensive linemen, Jake Ryan at linebacker, two safeties, and a quartet of Countess, Taylor, Lewis, and Peppers. At the very least, Lewis will establish himself as the heir to a starting spot in 2015.
Prediction:
Backup cornerback; 20 tackles, 1 interception
Saginaw (MI) Heritage wide receiver
Brian Cole
committed to Michigan (
LINK
).
ADDED TO THE BOARD: 2015
Washington (DC) Gonzaga cornerback
Marcus Lewis
decommitted from Florida. Lewis visited Michigan for the BBQ at the Big House last weekend and had a great time, according to all parties. It looks like the Wolverines might be on top in his recruitment, but he is also considering Florida (still), Miami, and Oregon. Lewis was attempting at one point to transfer to Bradenton (FL) IMG Academy, but those plans fell through and he will stay in D.C. for his senior year.
Destrehan (LA) Destrehan wide receiver
Kirk Merritt
was offered by Michigan
.
Merritt is a 5'11", 206 lb. prospect with offers from Alabama, Auburn, LSU, and Notre Dame, among others. He's a 247 Composite 4-star, the #3 all-purpose back, and #138 overall in the class. He recently won the SPARQ national championship at The Opening, which included a 4.46 forty and a nearly 46" vertical jump. Michigan is recruiting him as a wide receiver even though he's built like a running back or safety.
O'Fallon (IL) O'Fallon running back
Kentrail Moran
was offered by Michigan. He's a 5'10", 192 lb. prospect with offers from Illinois, Indiana, Kansas, and Syracuse, among others. He's a 247 Composite 4-star, the #18 running back, and #226 overall. As a sophomore in 2013, he had 1,140 rushing yards and 14 touchdowns. Moran is built like a power back and has decent speed. The Wolverines have long seemed like a favorite for Moran, so he could be Michigan's back for the 2016 class.
Shreveport (LA) Calvary Baptist quarterback
Shea Patterson
decommitted from Arizona. Patterson was committed to Arizona prior to receiving a Michigan offer, and then pegged the Wolverines' as a dream offer. He never visited and Michigan got a commit at his position in the form of Ohio's Messiah DeWeaver. Patterson is more of a pocket guy than I would expect Rodriguez to truly want, though he does have some running ability. This may turn out as a positive for both parties, but Patterson is a quality prospect with offers from Alabama, Auburn, LSU, Notre Dame, and Texas, among others.
Fort Wayne (IN) Wayne defensive end
Auston Robertson
was offered by Michigan. He's a 6'5", 230 lb. prospect with offers from Indiana and Notre Dame, among others. He's a 247 Composite 4-star, the #14 weakside end, and #207 overall. Robertson camped at Michigan in June, where the coaches had a chance to evaluate him. He visited for the BBQ this past weekend and was told that he had an offer, and while Michigan is currently looking at him as a defensive end, he could play tight end, too. His childhood favorite school was Ohio State.
Huntersville (NC) Southlake Christian Academy running back
Robert Washington
was offered by Michigan. He's a 5'10", 210 lb. prospect with offers from Florida, Nebraska, North Carolina, North Carolina State, Notre Dame, Ohio State, Penn State, Stanford, and UCLA, among others. He's a 247 Composite 4-star, the #15 running back, and #174 overall. As a sophomore in 2013, he had 219 carries for 2,512 yards and 28 touchdowns. He also claims a 4.47 forty. Washington was previously committed to Mississippi State, but that ended in July 2013; he has visited Michigan unofficially numerous times, both before and after that commitment ended. Washington has developed a good relationship with area recruiter Roy Manning, but there are a lot of schools in play.
New London (NC) North Stanly running back
Antonio Williams
was offered by Michigan. He's a 5'10", 210 lb. prospect with offers from Florida and Wisconsin, and he decommitted from North Carolina earlier this month. He's a 247 Composite 4-star, the #10 running back, and #123 overall. As a sophomore in 2013, he carried the ball 239 times for 2,401 yards and 22 touchdowns. Williams is another guy who has developed a strong relationship with Manning.
OFF THE BOARD
Detroit (MI) Cass Tech defensive tackle Joshua Alabi committed to Ohio State. Alabi held an early offer from the Wolverines, but the coaches have since taken the stance that defensive tackle is not a need in this class. He never seemed to be high on Michigan, and they never seemed to be too high on him, but it still hurts some perceptions that another Cass Tech kid would choose the Buckeyes. They do have a bit of history with Cass Tech players, with the likes of Vernon Gholston and Damon Webb.
Richmond (VA) Benedictine wide receiver Scott Bracey, a 2016 prospect, committed to Duke. Bracey is a superstar compared to what Duke normally gets. His teammate is defensive end Clelin Ferrell, another Michigan offeree, but one who committed to Clemson already.
Orchard Lake (MI) St. Mary's linebacker
Daelin Hayes
, another 2016 prospect, committed to USC. Hayes was considered a Michigan lean until recently, and he had previously set an announcement date for late April, when he was presumably going to choose the Wolverines. A strange thing happened when Hayes did not receive an invitation to the BBQ at the Big House, which frustrated him a little bit. It was reportedly an honest mistake on the coaches' part, but it may or may not be a coincidence that he visited Southern California and committed to the Trojans at roughly the same time he should have been attending the BBQ.
Houston (TX) Cy Falls defensive tackle
Du'Vonta Lampkin
committed to Texas. He had previously been committed to Oklahoma and never showed much interest in the Wolverines.
Tampa (FL) Sickles running back
Ray-Ray McCloud III
committed to Clemson. He was expected to commit to Florida for a long time until the tide started to turn in favor of the Tigers recently.
MISCELLANEOUS
Rivals released their top 100 (
LINK
) and top 250 (
LINK
) lists for 2016.
ESPN updated their top 300 prospects for 2015 (
LINK
).
Here's a list of the BBQ at the Big House visitors (
LINK
). Some names were added late while I was on vacation, so not all names are partnered with write-ups.
Posted by

Thunder
at 6:30 AM
4 comments:
Links to this post


Labels: 2015 recruiting, 2016 recruiting, Antonio Williams, Auston Robertson, Daelin Hayes, Joshua Alabi, Kentrail Moran, Kirk Merritt, Marcus Lewis, Robert Washington, Scott Bracey, Shea Patterson
Wednesday, July 30, 2014
Posted by

Thunder
at 10:00 PM
9 comments:
Links to this post