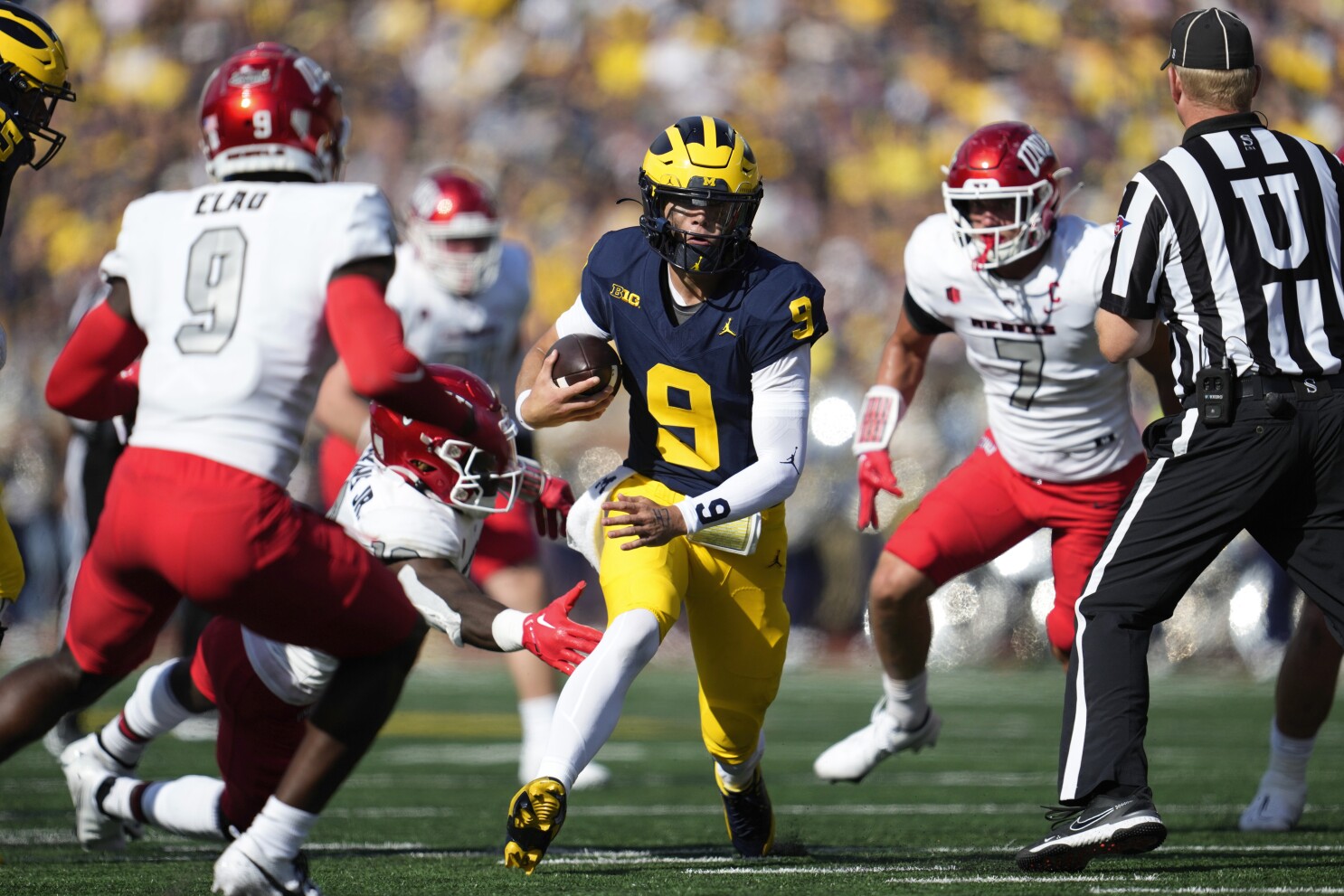 Defensive Tackle U. Michigan is putting together a nice crew of defensive tackles, and the least heralded one is the guy making plays most consistently, it seems. Sophomore Mason Graham made 5 tackles, 1.5 tackles for loss, and 0.5 sacks against UNLV, eating up the interior offensive line repeatedly. The Rebels ended the game with 61 rushing yards on 31 attempts, which includes sacks, but still . . . the middle was stuffed up all day. Kris Jenkins made 5 tackles and 0.5 sacks and Kenneth Grant made 4 tackles, 2.5 tackles for loss, 1.5 sacks, and 1 pass breakup. The title of this section is a little facetious, but the defensive tackle play has been terrific.
Hit the jump for more.
Quarterback U? For the second year in a row, J.J. McCarthy is off to an extended hot start. Last year he was leading the NCAA in completion percentage for the first few weeks, and this year it's happening again. He went 22/25 for 278 yards and 2 touchdowns on Saturday, and he now leads the country in completion percentage (87.3%) while ranking #13 in yards per attempt (10.1) and #4 in passing efficiency. I tried to douse Heisman talk in the pre-season by mentioning how much more scoring would be done by other quarterbacks, including USC's Caleb Williams (12 TD, 0 INT). But Notre Dame's Sam Hartman (10 TD, 0 INT) and Washington's Michael Penix (8 TD, 1 INT) are just a couple guys with better looking overall numbers, not to mention upstart Shedeur Sanders at Colorado (6 TD, 0 INT). It's going to be very difficult for McCarthy to be recognized as the best player in the country, because frankly . . . he's not. But he's still really dang good and within striking distance of being Michigan's best quarterback ever.
Offensive line questions. It's very interesting looking at all the offensive line takes, from MGoBlog to TV commentators to Pro Football Focus to, well, me. Everyone has a different idea of how this should shake out, who's playing well, who should play more, etc. It seems like there's often one guy who struggles who should maybe be replaced, but there's rarely more than one starter-quality player who's not playing. Right now Michigan has several starter-quality players not on the field, and it's a hotly debated topic. In my opinion, the interior three (LG Trevor Keegan, C Drake Nugent, RG Zak Zinter) are exactly where they should be, and C Greg Crippen and OG Giovanni El-Hadi are noticeably behind. I was initially doubtful about Karsen Barnhart at left tackle, but he does seem to have taken a big step forward this year. I'm not sure how he compares to La'Darius Henderson because I haven't seen enough of Henderson, but my bigger worry is about Myles Hinton on the right side. He's a boom-or-bust type of guy who can either obliterate people or watch his guy obliterate a Michigan running back on any given play. I truly believe Hinton could be a 2nd or 3rd round guy if he spends another year in Ann Arbor and gets some of the mental stuff down, but I'm a little surprised he's getting this extended of a look with Trente Jones available.
Speaking of running backs . . . they don't look great. I do believe Blake Corum (15 carries, 80 yards, 3 TD) and Donovan Edwards (6 carries, 9 yards, 0 TD) are good running backs. They didn't suddenly forget how to run. They didn't suddenly become slow. But they're not playing at a high level right now. It seemed in game one that their timing was off, and then Mike Hart told everyone that they hadn't been tackled all camp. Then after the UNLV game, Michael Barrett, Sr. (linebacker Michael Barrett's dad) tweeted out that Edwards didn't even really practice in August and just did workouts. So through two games, Edwards has 18 carries for 46 yards and 0 touchdowns, which is a far cry from where he wanted to be when he said he wanted his name to be right up there with the all-time greats. Both Corum and Edwards are going to have more productive days ahead, but it is a little annoying watching the running game go nowhere consistently.
The defensive ends had a good day. UNLV's offensive line is highly questionable, and the defensive line for Michigan didn't disappoint. Aside from the DTs mentioned above, Braiden McGregor (5 tackles, 1.5 TFL) and Jaylen Harrell (5 tackles, 1.5 sacks) had solid days, while Derrick Moore flashed off the edge for a sack, which was his only tackle on the day. The game was mostly quick throws or quarterback Doug Brumfield getting flushed after a short time in the pocket, and the Rebels knew they couldn't sit back in the pocket and wait for guys to come open.
How good is Roman Wilson? Wilson is quietly tied for #2 nationally with 5 touchdowns already this year, and his 47-yard touchdown catch was the longest play of the day. McCarthy seems to have locked on to Wilson as the #1 guy, which makes sense, since Wilson switched to the #1 jersey this year. Mediocre opponents and all, but Wilson is on pace for 60 catches, 1002 yards, and 30 touchdowns in the regular season. Yowzers! Cornelius Johnson is also having a good year. Both have 10 catches, but Johnson has 14 fewer yards and 0 touchdowns so far this season. It's going to be interesting to see how well Wilson continues to play throughout the rest of the year and what kind of case he makes for the NFL Draft.
Tyler Morris for punt returns. Jake Thaw is uninspiring as a punt returner. I hate to bag on walk-ons, but that's just how it is. Most punt returners are dynamic athletes, and Michigan is rolling out a guy who probably wouldn't be returning punts at any other Big Ten school. National championship contenders don't have Jake Thaws returning punts. Morris got one punt return opportunity and looked much quicker and more explosive. Perhaps Thaw is the guy catching punts most consistently, and that's certainly a consideration. Turnovers on punts are maddening. But from what we can see on Saturdays, Thaw shouldn't be the guy.
Mike Hart made a mistake. I thought it was interesting early this week when Jim Harbaugh told reporters at his press conference that "Coach Hart made a mistake" when he put in quarterback Davis Warren instead of Jayden Denegal. First of all, I thought it was a little forward and not really in his character to call out Hart by name, rather than saying, "There was a substitution mistake" or something like that. Maybe since Hart was acting as a head coach, Harbaugh decided to hold him to a higher standard. In general, I don't think Harbaugh calls out his assistants publicly. That just piqued my interest because there has been some public friction between the two before back when Hart called out Harbaugh for not being a "Michigan Man," which was obviously put to bed for Hart to be fired. But I just wonder if there's something simmering there. Also, it's very interesting that the backup quarterback situation is in such a state of flux. Davis Warren and Jack Tuttle have been battling for the #2 spot, by all accounts, but when Tuttle injured his shoulder along the sideline on a dirty hit, Hart sent in Warren . . . but apparently it should have been Denegal as the #3, but now Harbaugh says Denegal and Alex Orji should get the backup snaps this coming Saturday if/when the time arrives for a backup QB to play. It's just very odd that Michigan still seems to be trying out four guys for the backup job. (Warren threw kind of an ugly pick in this game, so . . . not a great audition for him.)
On to BGSU, a.k.a. the Michigan Across the Border. After trying out Michigan defensive coordinator Jesse Minter, Michigan safeties coach Jay Harbaugh, and Michigan running backs coach Mike Hart at head coach in place of suspended Michigan head coach Jim Harbaugh, Michigan will give Michigan offensive coordinator Sherrone Moore a chance at head coach against former Michigan quarterback/quarterbacks coach Scot Loeffler (BGSU's HC), former Michigan linebacker/assistant coach Steve Morrison (BGSU's DC), former Michigan wide receiver/wide receivers coach Erik Campbell (BGSU's wide receivers coach and passing game coordinator), and former Michigan strength and conditioning coach Kevin Tolbert (BGSU's S&C coach), the latter of whom worked under Harbaugh at Stanford, with the 49ers, and at Michigan from 2009-2017.