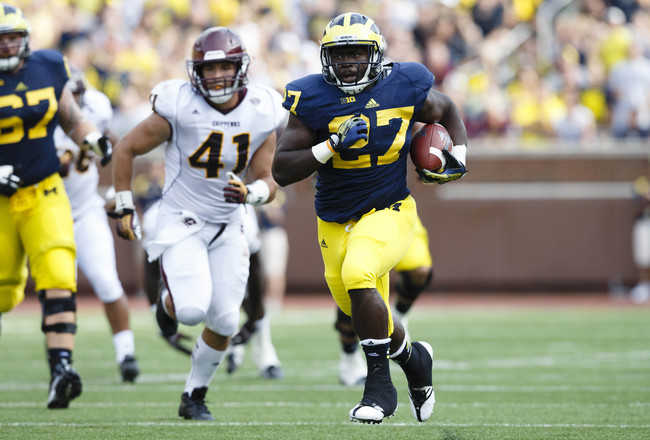 According to readers, Derrick Green is the leading candidate for the starting running back job in 2014
I may present this poll again closer to the season, because a new offensive coordinator will mean a different philosophy and perhaps some different personnel. But in the meantime, before Al Borges was let go, I asked which running back would get the most carries in 2014. What you said:
Derrick Green (So.): 60%
Green had 83 carries for 270 yards (3.3 yards/carry) and 2 touchdowns in 2013. Green showed pretty good speed and fell forward after contact, but he didn't break many tackles or show a lot of wiggle. Of course, nobody should have expected a 6'0", 230 lb. running back to show much wiggle. He did start off the year heavier than he should have been, which may have diminished his effectiveness. New offensive coordinator Doug Nussmeier and his fellow Alabama staff members recruited Green to Tuscaloosa, so it would make sense that Nussmeier has an eye toward Green being his horse.
De'Veon Smith (So.): 30%
Smith had 26 carries for 117 yards (4.5 yards/carry) as a freshman. After not playing much early in the year, something got sparked in him during the last few weeks of the regular season, when he totaled 15 carries for 98 yards (6.5 yards/carry) against Northwestern and Ohio State. Smith is a more violent runner than Green, but his speed leaves something to be desired.
Drake Johnson (RS So.): 3%
Johnson had 2 carries for 9 yards before tearing his ACL in the season opener against Central Michigan. Up until that point, he had been listed as Michigan's #2 tailback. An accomplished high school track athlete, Johnson's main claim for playing time was based on his speed. The fact that he tore the ACL in late August means he should be almost back to full speed by the time the 2014 season rolls around, but sometimes it takes a couple years for guys to totally recover.
Other: 2%
This could refer to junior Dennis Norfleet, who moved to slot receiver; or redshirt freshman tailback/fullback Wyatt Shallman, who looks like an H-back to me; a freshman like Jeff Jones or Vic Enwere, neither of whom have committed to Michigan; or perhaps quarterback Devin Gardner. If you gave me all of their carries combined, I would still bet on one of the other guys.
Justice Hayes (RS Jr.): 1%
Hayes had 2 carries for 6 yards on the season, but by golly, he was the starting running back against Kansas State in the Buffalo Wild Wings Bowl. The best thing Hayes has going for him is some decent speed, but he doesn't have the greatest vision or tackle breaking ability. He was even reported to be moving to slot receiver before injuries and ineffectiveness forced him back to running back.
Thomas Rawls (Sr.): 0%
Rawls had 3 carries for 12 yards and 1 touchdown, all of which came against Central Michigan in the season opener. He played some special teams after that, but you wouldn't really have known he played at all unless you checked the participation reports after the games. There have been rumors that he will not return to the football team in 2014.