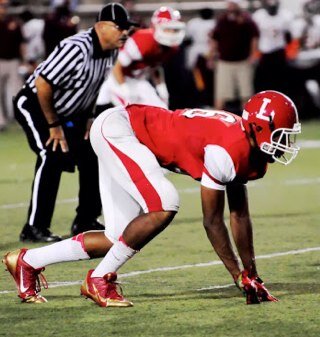 Orange (CA) Lutheran defensive end Keisean Lucier-South
Name:
Keisean Lucier-South
Height:
6'6"
Weight:
218 lbs.
High school:
Orange (CA) Lutheran
Position:
Defensive end
Class:
2015
Notes:
Holds offers from Arizona, Arizona State, Boise State, California, Colorado, Miami, Michigan, Notre Dame, Oregon, Oregon State, TCU, Tennessee, Texas, UCLA, USC, Vanderbilt, and Washington . . . Claims a 4.7 forty time . . . Had 10 sacks as a junior in 2013 . . . ESPN 4-star, 82 grade, #9 DE, #65 overall . . . Rivals 4-star, #7 WDE, #80 overall . . . Scout 5-star, #2 DE . . . 247 Sports 4-star, 96 grade, #6 WDE, #57 overall
Strengths:
Long-armed with good frame to add weight . . . Quick first step that gets offensive tackles to open up sooner than they like . . . Comes around corner with inside shoulder dipped . . . Plays with good knee bend . . . Spikes inside well due to leverage . . . Good change of direction . . . Lowers hips at point of contact, allowing him to stay with shorter players . . . Uses hands and long arms well to disengage from blockers and wrap up ball carriers . . . Very good speed . . . Takes proper angles and does not often need to readjust pursuit
Weaknesses:
Needs to add weight and get stronger . . . Overpowers some high school linemen due to quickness and ability to play low, but needs to play more violently to beat players at next level . . . Does not display a variety of pass rush moves
Projection:
Weakside end. The key for Lucier-South will be whether he maintains his athleticism while he adds weight, because he's very thin now. If he can maintain his speed and change of direction, he should be able to remain at weakside end and give offensive tackles fits with his length and quickness. If that speed starts to dwindle once he adds another 40-50 lbs. of muscle, then he may need to move to strongside end. He plays with enough leverage to take on tight ends and tackles on the strong side, so that wouldn't spell disaster for him. Perhaps the most encouraging thing is his pursuit angles, which combine with his understanding of leverage to suggest that he comprehends the game on a higher level than "see ball, get ball." Also, Maxpreps named his school's league (the Trinity League) as
the #2 most difficult conference in the nation
, so he's having success against quality competition. That league includes St. John Bosco (Josh Rosen, Jaleel Wadood, Damien Mama) and Mater Dei (Matt Barkley, Matt Leinart, Max Wittek), among others.
Reminds me of:
Taco Charlton. Michigan hasn't successfully recruited many guys like Lucier-South in recent years, so while I think Lucier-South is more refined as a player than Charlton was, they are comparable when it comes to size and natural athleticism.
Likelihood of committing to Michigan:
Lucier-South has been pining for a Michigan offer for a long time and called Michigan his "dream school." Still, he lives on the west coast and is being pursued by the likes of Notre Dame, Texas, and USC, so there's no shortage of suitors to try to convince him otherwise. No other strong leaders appear to have emerged, so I think Michigan has as good of a shot as anyone.