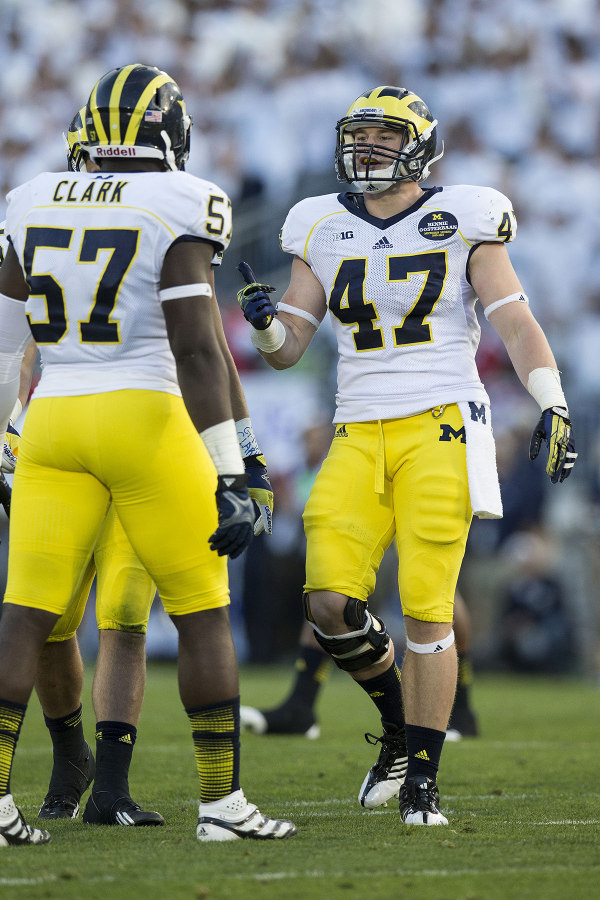 Let's see more of this guy on offense . . .
Dennis Norfleet. Norfleet injured his shoulder against Indiana, and he did not appear in this game. It was no surprise when Michigan couldn't find a big-play threat even once during the Northwestern game. Offensive coordinator Doug Nussmeier tried an end around to Devin Funchess - which was an utter failure - and the Wolverines have no speed on the outside. Add that to the gimpy Devin Gardner and a gimpy De'Veon Smith, and things look bleak for big plays. Norfleet hasn't been able to make huge plays, but he does have the ability to make 10-20 yard gains on the occasional run or reception. Hopefully he can get healthy by the next game in two weeks.
Let's see less of this guy on offense . . .
Devin Funchess as the go-to receiver. The more reliable target this year has been Amara Darboh. Darboh is pretty slow and runs poor routes at times, but he makes both the easy and the tough catches. Funchess hasn't consistently made either. Michigan needs to spread the ball around, but when they
need
a play to be made, I think Darboh has to be the guy.
Let's see more of this guy on defense . . .
James Ross III. Ross has been playing better than the third corner. Against some packages, I guess it's necessary to put a fifth defensive back in the game, but you have to put your best eleven guys out there on defense. That actually probably would involve removing the free safety, but we've been over that before. Anytime Delonte Hollowell is out there on defense, I'd rather have Ross in the game.
Let's see less of this guy on defense . . .
Delonte Hollowell. As I mentioned in the game recap, it seems like opposing coordinators and quarterbacks are aware of his presence. If they watch game tape from earlier in the season, he's the guy they should realize they can pick on. He hasn't played a great deal on defense, but he has allowed at least three touchdowns this season on out routes near the left sideline (against Notre Dame, Utah, and now Northwestern). The kid is a decent special teams contributor, but he's a liability in coverage.
Play of the game . . .
Matt Godin's interception on Frank Clark's tip. Late in the second quarter, Michigan ran a zone blitz that dropped defensive end Brennen Beyer into a short zone. On a three-man rush, defensive end Frank Clark bulled Northwestern offensive tackle Jason Konopka backward, getting a hand up to knock down a Trevor Siemian pass attempt. The ball was knocked up in the air, and defensive tackle Godin reeled it in as he was falling backward to the ground. There are several options - the thwarted two-point conversion, Jake Ryan's interception, several of the 6 Michigan sacks, etc. - but I'll give it to Godin (and Clark) because it involved multiple players.
MVP of the game . . .
tie between Jake Ryan and Frank Clark. Both had stellar games, particularly in the first half. Ryan finished with 11 tackles, .5 tackles for loss, 1 interception (returned for 2 yards), and 1 other pass breakup. Clark had 8 tackles, 2.5 tackles for loss, 1.5 sacks, and 3 batted balls, one of which was intercepted; he also sniffed out a reverse and made a very nice tackle in the backfield. This game was won by the defense, and those two really stood out.