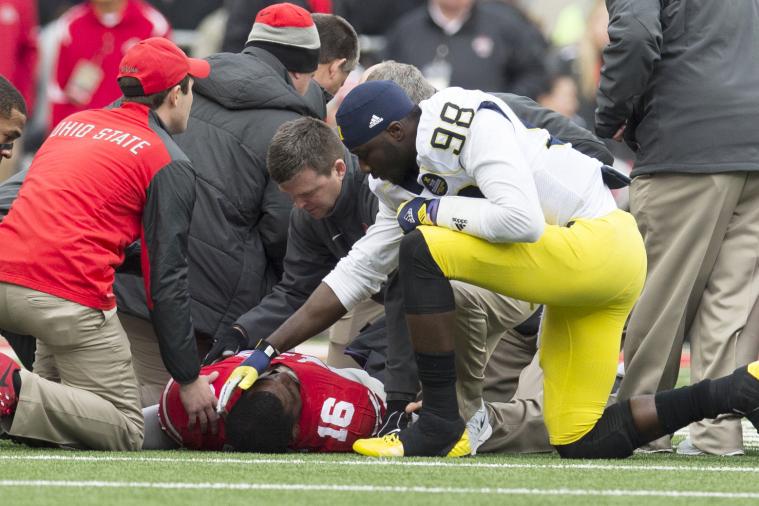 Devin Gardner wishes good luck to J.T. Barrett after the Ohio State quarterback suffered a season-ending injury
(image via BR)
That was better than I expected.
For the second year in a row, Michigan came into The Game with fans and analysts having low expectations. And for the second year in a row, Michigan made a game of it. I expected the Wolverines to keep it close in the first half, only to have the wheels come off late. The wheels certainly came off, but Michigan led the game for roughly half of the second quarter and they were tied until just over a minute remaining in the third quarter. Offensively, Devin Gardner turned it up a notch, Drake Johnson solidified himself as the best back available, and Doug Nussmeier unleashed some creative play calling that we had not seen for most of the year.
Drake Johnson is #1*.
Of the runners available at the end of the season, I don't think there's any doubt that Johnson is the best option going forward. I hope De'Veon Smith got enough chances for fans and coaches to realize that he just doesn't have the speed to get the job done, and he's not the bulldozer that so many people thought he would be. Justice Hayes is a decent complementary or third down back, but Johnson (15 carries, 74 yards, 2 touchdowns) is quicker than the others and displayed some power on Saturday that might hint that he's learning how to run the ball in the Big Ten. Unfortunately, Johnson crumpled up on the ground when he scored his second touchdown, and it looked likely to be a torn ACL; Johnson also tore his ACL in the 2013 season opener, so it would be sad to see him have to go through the same rehab again. He ends the year with 60 carries for 361 yards (6.0 yards/carry) and 4 touchdowns. Out of those totals, 57 carries, 333 of those yards, and all 4 touchdowns came in the final five games against Big Ten opponents. He didn't have the chance to rack up huge amounts of yardage against Appalachian State and Miami, although he did have the advantage of running behind an offensive line that improved throughout the year.
I'm going to miss Devin Gardner.
Gardner turned out not to be the best quarterback. He showed signs of improvement in the second half of 2013, and then he regressed this year. You can blame it on Brady Hoke, Doug Nussmeier, Al Borges, the receivers, the offensive line, playing wide receiver in 2012, Gardner himself, etc. There are any number of directions you can point. There are two big things about Gardner that I will miss. Much like Denard Robinson, I will miss Gardner's attitude and leadership. He was not the most vocal guy, but the kid took a beating behind Michigan's offensive line and never pointed fingers or complained about the guys in front of him. He also showed some sportsmanship when Ohio State quarterback J.T. Barrett broke his ankle, with Gardner coming out on the field to wish him well before he was carted off. The second big thing I'll miss about Gardner is his athleticism. The guy was one of the best athletes to play quarterback at Michigan, perhaps second-best behind his predecessor, Robinson. Gardner could run through tackles, juke defenders, outrun defenders, throw the ball deep, put touch on his passes, and make the game of football a beautiful thing to watch at times. I kept waiting for this guy to break out, but for all the reasons mentioned above, I'll always be left to wonder what could have been.
Clock management failure #1.
At the end of the first half, Michigan's drive stalled with over two minutes remaining. The punt team was summoned. Rather than allowing the play/game clock to wind down under two minutes, Michigan snapped the ball with about 20 seconds on the play clock and 2:20 left on the game clock. Ohio State got the ball and calmly waltzed down the field to score with :07 seconds remaining. If you're Brady Hoke, what can you possible be thinking at that point? We know by now that Hoke's plan was not to get a stop, get the ball back, and run a hurry-up drive to score. Hoke isn't that aggressive. If Michigan did get the ball back, they would have run the ball until halftime. The only possible explanation is that Hoke wasn't paying attention or thinking that far forward, which is a pretty damning trait.
Clock management failure #2.
Even with three minutes left and down three touchdowns in the final game of the year, Michigan still couldn't run a halfway decent hurry-up. They were huddling at times, they didn't know how to line up, etc. while the clock was ticking down. They had no urgency whatsoever. Gardner did lead a successful drive that culminated in a 3-yard touchdown pass to Freddy Canteen, but it left just 1:15 on the clock to get an onside kick, score, get another onside kick, and score again. I am usually a person who thinks that the game isn't over until the clock says 0:00, but Hoke managed to suck that out of me this year. Just like we know Hoke can't use his timeouts or manage the end of a half properly, we also know that running an offense with any kind of tempo is out of the question. More so than a lack of player development, these issues with game management (the clock, the timeouts, having the right personnel on the field, etc.) are the ones most damning if he wanted to make a case to keep his job going forward.
The lack of personnel development.
As I mentioned above, the lack of anyone stepping up throughout the year is almost amazing. You can point to a few individuals who got better from 2013 to 2014 (Jourdan Lewis, Derrick Green, Joe Bolden) or who improved throughout the season (Jake Ryan, Drake Johnson), but the only unit to improve was the offensive line. No other position group seemed to take steps forward, except perhaps the running backs, whose performance is tied to the OL.
Holy cow, there has been a lack of takeaways.
Michigan ends the 2014 season with 5 interceptions, their lowest total in at least 20 years. I looked at stats from 1995 onward, and I only stopped because I can't find a reliable source of information any earlier than that. Michigan got picks from Lewis (2), defensive tackle Willie Henry, defensive tackle Matt Godin, and linebacker Jake Ryan. The Wolverines are tied for 120th in interceptions and might end up lower after a couple teams play in bowl games. Michigan is #123 in turnover margin with -1.33 per game. In fact, it's almost amazing that Michigan is #10 in total defense and #28 in scoring defense with the inability to create turnovers and an offense that can't sustain drives. The lack of takeaways is obviously a negative for defensive coordinator Greg Mattison, but it says something that his scheming and Michigan's solid tackling have helped to prevent a total team breakdown.
I'm sad the season is done.
This was one of those years where you see a bunch of talent on the field and expect big things, but big things don't happen. Michigan had a record-setting quarterback, a wide receiver who looked like a potential first rounder, a very good tight end, a 5-star running back, a solid kicker, a former All-Big Ten punter, and loads of talent on the defensive side of the ball. All that gets boiled down to a 5-7 season and a career for some of these seniors that ends with a thud.
I'm sad this is how it went down for Brady Hoke.
I was not a fan of Michigan's hiring of Brady Hoke in 2011. He hadn't proven enough at a high enough level, and it showed that he was in over his head. However, I did hope that he would have success at Michigan. Not only because I'm a fan of the Wolverines, but because Hoke seems like a good guy, I wanted him to win and win big. There aren't enough decent guys winning national championships out there. Instead, there are people like Nick Saban and Jimbo Fisher. Now it appears that Hoke's head coaching career is over at Michigan. Wherever he ends up in the future, I hope he can find success.
I still have high hopes for next year.
Regardless of who the coach is, Michigan has a lot coming back in 2015. Devin Gardner is the only senior on offense to start, and Devin Funchess might declare for the NFL Draft. Meanwhile, Michigan has lost its best two players on defense (Jake Ryan and Frank Clark, the latter of which was kicked off the team, anyway), cornerback Raymon Taylor, senior kicker Matt Wile, and senior punter Will Hagerup. There are capable replacements for most of those guys, with the kicking job as the biggest question mark. This was a young team that should improve going into 2015.