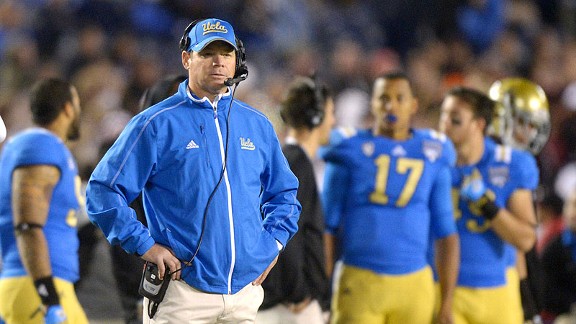 Jim Mora, Jr.
Jim Mora, Jr.
Age:
53
Current position:
UCLA head coach
Salary:
$1,935,000 per year
Head coaching experience:
28-11 at UCLA (2012-2014), 5-11 at Seattle Seahawks (2009), 26-22 at Atlanta Falcons (2004-2006), 59-44 overall
History:
Mora is the son of former NFL head coach Jim Mora. Mora, Jr. lived in California as a kid and attended high school in Washington, where his dad was an assistant with the Washington Huskies and the Seattle Seahawks. After graduating high school, Mora, Jr. walked on at Washington and played linebacker/safety. He became a graduate assistant at Washington before moving to the San Diego Chargers as a quality control guy and defensive backs coach, eventually coaching DB's for the New Orleans Saints (under his dad) and the San Francisco 49ers. He became defensive coordinator of the 49ers in 1999, and he did well enough to be hired as the Atlanta Falcons' head coach in 2004, where he was under scrutiny for his tutelage of Michael Vick. Fired after a 7-9 season in 2006, he worked under Mike Holmgren in Seattle as the defensive backs coach and associate head coach. He was promoted to head coach in 2009 but was fired after a 5-11 season. Mora, Jr. worked for the NFL Network and Fox Sports before taking the had job at UCLA prior to the 2012 season. He took a program that had been 21-29 in the previous four seasons under Rick Neuheisel, and has since won 9, 10, and 9 games. Mora, Jr. has shown a willingness to adapt with a shotgun/pistol spread offense, a mobile quarterback in Brett Hundley, and a guy who doubles as a linebacker and running back (Myles Jack).
My thoughts:
Mora holds some clout as a coach because of his NFL work and how quickly he turned around UCLA, and he has been a good recruiter there. Neuheisel's final full class in 2011 was ranked #45 by Rivals, and since that point, Mora's classes have been ranked #8(tie) in 2013, #18 in 2014, and currently #16 in 2015. Mora's offenses have been pretty good, but his defenses have been mediocre each season. I like that he's willing to think outside the box (it's not often that linebackers also play running back) and adapt to the college game with the pistol, and he's young enough to connect with players without seeming like an out-of-touch old fogey. However, Mora has no ties to the midwest and would be playing from behind in terms of recruiting. He has recruited the west well, but he has just a few recruiting successes in the northeast quadrant of the country (1 from New Jersey, 1 from Indiana, 1 from Delaware). Any connections in Big Ten country would have to come from his assistants.
Likelihood of coming to Michigan:
Supposedly, Mora is the one who has reached out to Michigan through some back channels. It could be an effort by his agent to squeeze some extra money out of UCLA, because it would be odd for a West Coast guy (who grew up in California and Washington, who has worked in Los Angeles, San Diego, San Francisco, and Seattle) to want to suddenly move to the Mitten. It seems to me that the only legitimate desire to move might come from the belief that he will be playing from behind against USC and Oregon, a notion that I find hard to believe when Michigan is in direct competition with Ohio State, Michigan State, and Wisconsin for recruits and conference dominance. Unless there's some sort of inner turmoil going on within the athletic department at UCLA, this would be an odd move.
My wish list:
1.
Jim Harbaugh
2.
Bob Stoops
3.
Dan Mullen
4. Jim Mora, Jr.
5.
Les Miles
6.
Greg Schiano
7.
Tom Herman
8.
Pat Narduzzi
9.
Mike Shanahan