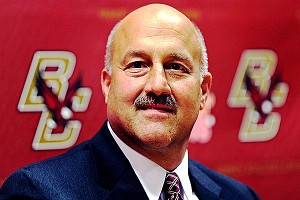 Steve Addazio
Steve Addazio
Age:
55
Current position:
Boston College head coach
Salary:
Head coaching experience:
14-11 at Boston College (2013-present), 13-11 at Temple (2011-2012), 27-24 overall
History:
Addazio was born in Connecticut and played football at Central Connecticut. After some time coaching at a small college and in high school, he got a job with Syracuse in 1995. He then worked at Notre Dame under Bob Davie, Indiana under Gerry DiNardo, and Florida under Urban Meyer, all coaching the offensive line (and occasionally tight ends) through 2008. When Florida offensive coordinator Dan Mullen left to take the head coaching job at Mississippi State, Addazio was promoted to his spot. The Gators went 21-6 in Addazio's two years as offensive coordinator, where he worked with Tim Tebow in 2009 and John Brantley in 2010. Tebow was spectacular, while Brantley threw 9 touchdowns and 10 picks. When Urban Meyer "retired" after the 2010 season, Addazio took the head coaching job at Temple. The Owls went 9-4 in the MAC that first year, ranking #1 in the conference in total defense and #7 in offense. When Temple moved to the Big East in 2012, they were last in defense and second-worst in offense on the way to a 4-7 record. Somehow that earned him a promotion to Boston College. His first team saw running back Andre Williams rush for 2,177 yards, but they still finished #11 in the ACC in offense and #14 in total defense. That defense jumped to #3 in the conference in 2014, but the Eagles were still #10 in defense. Senior quarterback Tyler Murphy eked out 1,000 yards rushing on the ground to lead the team, while freshman running back Jon Hilliman managed just 3.83 yards/carry. Both seasons in Boston College have resulted in 7 wins (with a chance to get to 8 this year).
My thoughts:
I am thoroughly unimpressed with Addazio's resume. Addazio's teams are wildly inconsistent, and the individual successes - Tim Tebow in 2009, Andre Williams in 2013, Tyler Murphy in 2014 - are odd and unreliable, too. Aside from Tebow that first year, the quarterback play has been subpar with his guys totaling 61 touchdowns and 40 interceptions. From what I gather, Addazio is an upstanding guy whose personality would fit in very well with what Michigan wants. That's the scary part. His record is slightly above .500, which is frighteningly close to Brady Hoke's 47-50 job before arriving in Ann Arbor. Unfortunately, that comes without the ingrained affinity for the Wolverines and the upward trajectory that Hoke's Ball State and San Diego State's teams had. This would be an underwhelming hire, and recruiting would suffer, particularly in the short term.
Likelihood of coming to Michigan:
Addazio is getting too many mentions in the media and the Michigan blogosphere to ignore. Likely because of his cultural fit and desire to run the ball, he seems to be on the list. I would assume that athletic director Jim Hackett realizes how disappointing this hire would be, so Addazio seems like an emergency possibility in case Harbaugh, Stoops, Miles, and probably others fall through. Regardless, his name terrifies me and would seem to assure mediocrity for Michigan.
My wish list:
1.
Jim Harbaugh
2.
Bob Stoops
3.
Dan Mullen
4.
Jim Mora, Jr.
5.
Les Miles
6.
Greg Schiano
7.
Tom Herman
8.
Pat Narduzzi
9.
Mike Shanahan
10. Steve Addazio