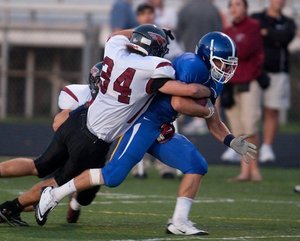 Mark Lawson makes a tackle as a high schooler
(image via AnnArbor.com)
Name:
Mark Lawson
Height:
6'2"
Weight:
215 lbs.
High school:
Ada (MI) Forest Hills Eastern
Position:
Linebacker
Class:
Redshirt freshman
Jersey number:
#59
Last year:
I did not rank Lawson. He did not play in 2012.
After Jake Ryan tore his ACL in the spring, Lawson was mentioned as a backup at SAM linebacker, along with Cameron Gordon. Brennen Beyer has moved from the weakside end position, the staff has moved Allen Gant from safety, and incoming freshman Mike McCray II is slated to play SAM. I do not expect Lawson to factor into the rotation much at linebacker, but he could be used on special teams. And if it comes down to burning McCray's redshirt in garbage time or plugging in a walk-on, it would make sense to plug in Lawson.
Prediction:
Backup linebacker, special teamer