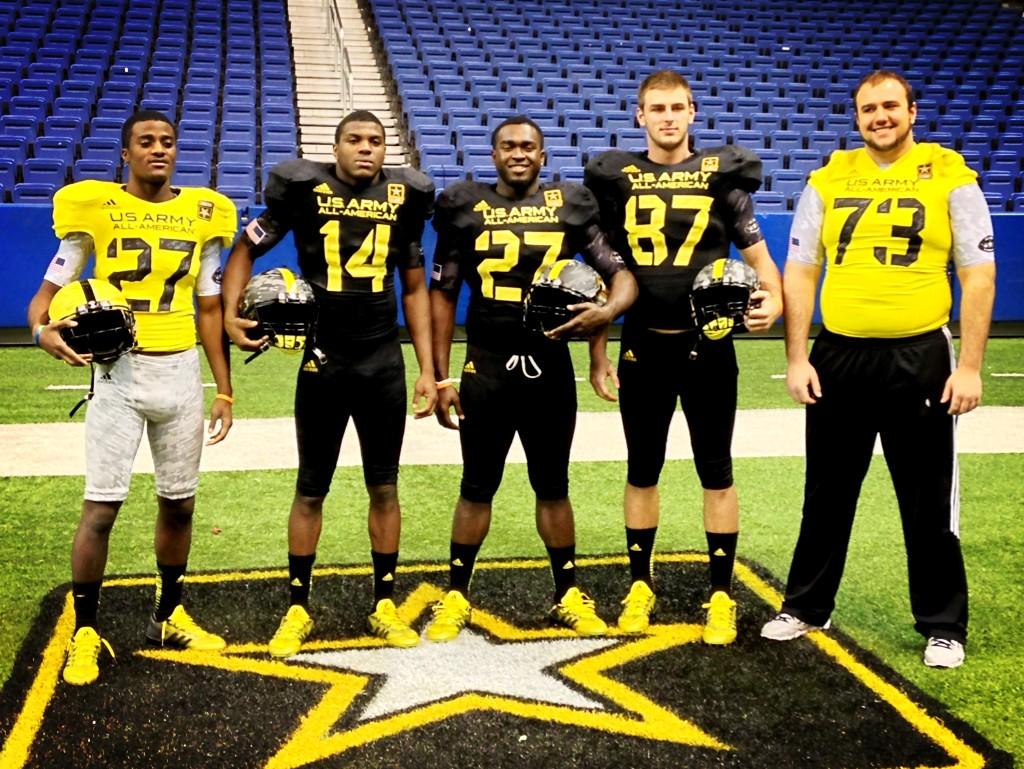 Jourdan Lewis (left) with Dymonte Thomas, Derrick Green, Jake Butt, and Chris Fox
Name:
Jourdan Lewis
Height:
5'10"
Weight:
170 lbs.
High school:
Detroit (MI) Cass Tech
Position:
Cornerback
Class:
Freshman
Jersey number:
N/A
Last year:
Lewis was a senior in high school
. I gave him a TTB Rating of 84.
Lewis committed in February 2012 and turned into a pretty high profile recruit, despite a lack of reported offers. He participated in Nike's The Opening last summer and was selected to the U.S. Army All-American Bowl. Lewis earned a lot of praise for his ability to break on the ball and stick with receivers, but like most Cass Tech cornerbacks of recent vintage, he's about as physically imposing as Towelie.
It might be a good idea for Lewis to redshirt, but Michigan has taken two other slight cornerbacks from Cass Tech in the past two years, and both have played. In fact, if you come from Cass Tech, you're practically guaranteed to play as a true freshman (see: Will Campbell, Delonte Hollowell, Royce Jenkins-Stone, Teric Jones, Terry Richardson). It might be special teams or garbage time or as an injury replacement late in the year, but my guess is that he ends up on the field. If I were playing a video game, though, I would totally redshirt him.
Prediction:
Special teamer