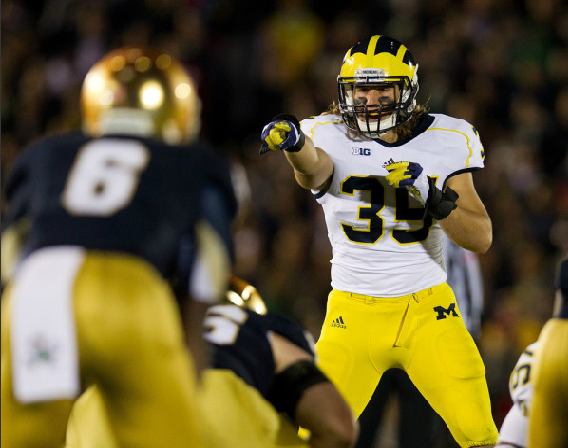 Joe Bolden
Name:
Joe Bolden
Height:
6'3"
Weight:
225 lbs.
High school:
Cincinnati (OH) Colerain
Position:
Linebacker
Class:
Junior
Jersey number:
#35
Last year:
I ranked Bolden #30 and said he would be a backup middle linebacker
. He made 54 tackles, 4 tackles for loss, and 2 sacks.
Bolden turned in a solid sophomore campaign, starting four games and finishing as the fifth-leading tackler for the Wolverines. He really came on against Michigan's tougher opponents, posting 8 tackles against Michigan State and 1 sack each against Ohio State and Kansas State. Bolden was the top backup inside linebacker, filling in for both middle linebacker Desmond Morgan and weakside linebacker James Ross III. Bolden seemed to genuinely improve throughout the season after looking a little overwhelmed as a freshman, so I think it's safe to state - and not just guess - that Michigan has some quality depth at the linebacker positions.
Coincidentally, Bolden is once again the #30 player on the list. I might be underrating him, because he started the spring game at WILL linebacker and seems to have closed the gap between himself and Desmond Morgan. I have always thought that Bolden had higher upside, but right now I think they both offer different strengths in different situations. I would be more inclined to play Morgan in run situations or against traditional running scehemes, whereas Bolden is probably the better bet against teams that spread it out. Both linebackers will play a significant number of snaps, but I have hard time seeing a junior leapfrog a senior, three-year starter in Morgan.
Prediction:
50 tackles, 3 sacks