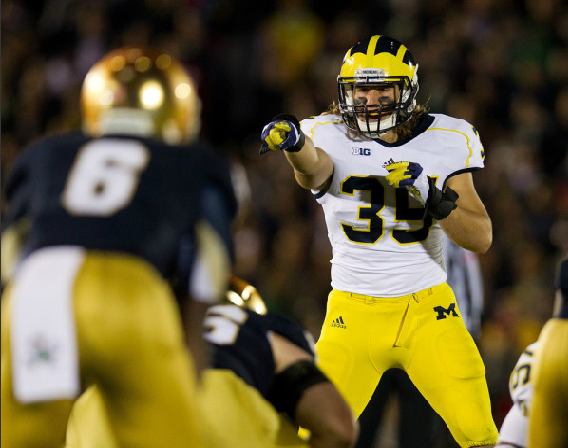 Joe Bolden
Name:
Joe Bolden
Height:
6'3"
Weight:
222 lbs.
High school:
Cincinnati (OH) Colerain
Position:
Linebacker
Class:
Sophomore
Jersey number:
#35
Last year:
I ranked Bolden #46 and said he would be a backup middle linebacker
. He had 31 tackles, 4 tackles for loss, 1 sack, and 1 fumble recovery.
Bolden was indeed the backup to the now departed Kenny Demens last season, and Bolden even appeared to steal some snaps from Demens against teams like option-oriented Air Force. Bolden did a good job, especially for a true freshman linebacker. That's not normally a spot where a freshman can be successful, and he did have a few struggles, but mostly he showed that he has a pretty solid future.
While Bolden looks like a future high-quality starter at MIKE, he seems to be planted behind junior Desmond Morgan for the upcoming season. Morgan was the starter at WILL last season, but is a more natural fit in the middle now that Demens graduated. Bolden's presence does allow for some flexibility; sophomore WILL linebacker James Ross will start there, but Morgan could bump back over to the weakside if there's an injury and Bolden could step in to start at MIKE. I also think Bolden could fit at SAM linebacker if needed. He's in a slightly unfortunate spot of being the classmate of a future star (Ross) and a class behind some established starters (Morgan, Jake Ryan). When he does get a chance to start full-time at some point, I think Michigan fans will be pleased.
Prediction:
Backup middle linebacker