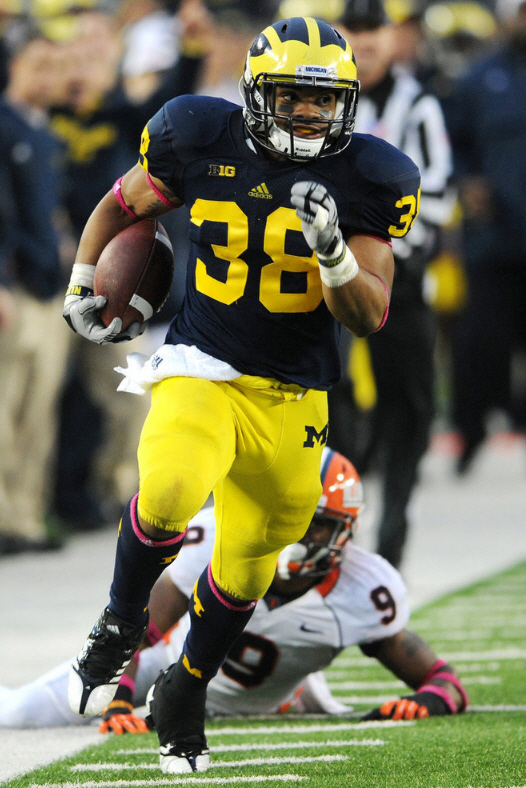 Thomas Rawls
Name:
Thomas Rawls
Height:
5'10"
Weight:
217 lbs.
High school:
Flint (MI) Northern
Position:
Running back
Class:
Junior
Jersey number:
#38
Last year:
I ranked Rawls #18 and said he would be a part-time starter
. He started one game and had 57 carries for 242 yards and 4 touchdowns.
I made a mistake and ranked Rawls too high last year. I decided to believe Fred Jackson, and I will never, ever, ever do that again. In 2012 Rawls looked like the guy I thought he was coming out of high school. He doesn't break tackles the way someone his size should, and he doesn't have breakaway speed. However, he did have good games against Illinois (9 carries for 90 yards, including a 63-yard touchdown), Purdue, and UMass, for whatever those accomplishments are worth.
Rawls has now had two years to prove himself a capable runner, and he has yet to do so. Whenever starter Fitzgerald Toussaint returns to health, I think Rawls will find himself #3 on the depth chart behind Toussaint and freshman Derrick Green. Rawls might have some value as a backup fullback, but he does not appear to be starter material. Former 5-star Kevin Grady followed a similar career path from failed tailback to fullback, and while I'm not totally writing Rawls off from contention for backup duty at tailback, I just think there are better guys in the pipeline.
Prediction:
Backup running back; 30 carries, 130 yards, 2 touchdowns