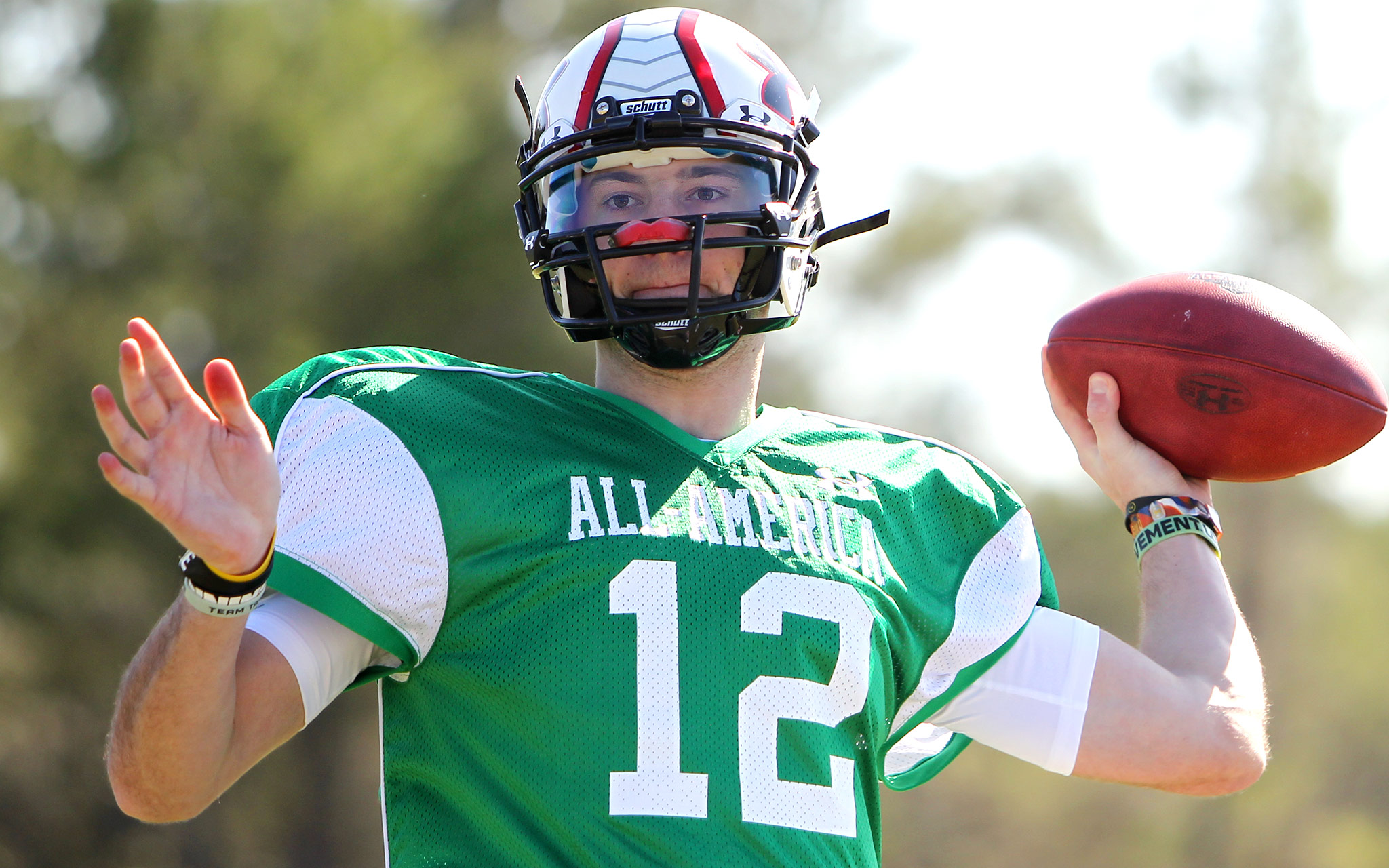 Shane Morris
Name:
Shane Morris
Height:
6'3"
Weight:
183 lbs.
High school:
Warren (MI) De La Salle
Position:
Quarterback
Class:
Freshman
Jersey number:
#7
Last year:
Morris was a senior in high school
. I gave him a TTB Rating of 87.
Morris had quite an up-and-down senior campaign. After committing during his sophomore year, he participated in Nike's The Opening in July 2012, was chosen for the Elite 11 championships, and played in the Under Armour All-America Game. He did well during the 7-on-7 portion of The Opening, did okay at the Elite 11, and didn't fare too well at the all-star game. To be fair, none of the quarterbacks looked good at the UA game. In between those events, he played a little more than half of his senior football season due to being diagnosed with mononucleosis mid-season.
Morris has a very strong arm and decent athleticism. He reminds me a little bit of Chad Henne as a freshman, who threw everything as hard as he could and suffered some incompletions, interceptions, and broken up passes as a result. Morris has that same kind of arm strength, and from what I've seen, he generally only looks to his left. On top of being unable to enroll early (his high school wouldn't allow him to graduate in December), he will have to work past some of his own weaknesses to improve his vision, pre-snap reads, and decision making. Normally a backup quarterback would be higher on this list, but I'm not sure that Morris will be much more ready than someone like walk-on Brian Cleary, and there's also the possibility that Russell Bellomy will return from his torn ACL in time to play at some point this year. I believe Morris will see the field this year, if only in garbage time to prepare him for a starting gig; if current starter Devin Gardner has an outstanding season, he could leave early for the NFL and someone like Morris must be prepared to take over. But if Michigan loses Gardner for any stretch of time, I think the team will be in serious trouble.
Prediction:
#2 quarterback unless/until Russell Bellomy returns from injury