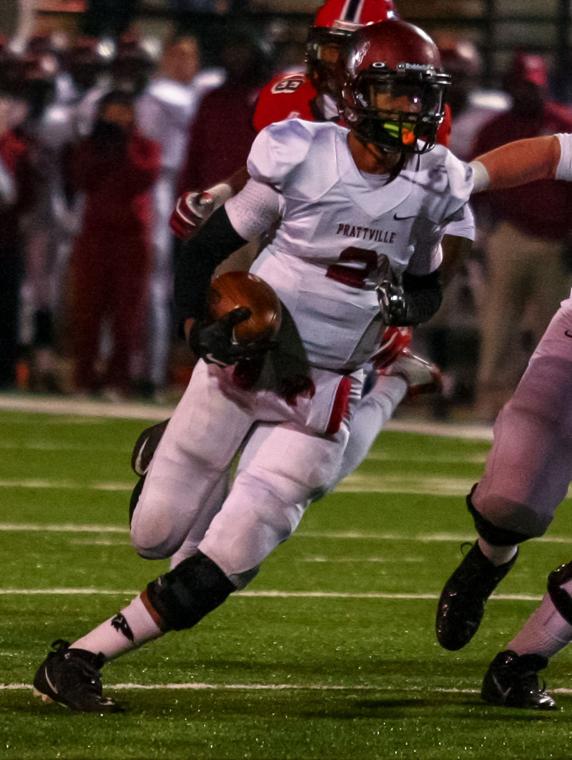 Prattville (AL) Prattville quarterback/cornerback Keith Washington
Prattville (AL) Prattville cornerback Keith Washington flipped to Michigan from Cal on Wednesday morning. He also had offers from Indiana, Louisville, Miami, Missouri, North Carolina, and Texas Tech, among others. At one time Washington had been committed to Duke.
Washington is 6'2", 170 lbs. and claims he can run the forty in the 4.3 range. He was primarily Prattville's quarterback, so defensive stats are limited. As a senior in 2014, however, he was 92/162 passing for 1,718 yards, 17 touchdowns, and 6 interceptions; he also rushed 152 times for 1,201 yards and 20 touchdowns. He helped lead the team to an 11-3 record this past season, his third as a starting quarterback.
RATINGS
ESPN: 3-star, 75 grade, #117 ATH
Rivals: 3-star, #26 ATH
Scout: 3-star, #147 CB
247 Sports: 3-star, 82 grade, #118 ATH
Washington did not appear to be on Michigan's radar until late January, even after he committed to Cal on January 25. With things looking bleak for other cornerback prospects, Michigan's staff sold him on the program, despite the fact that Washington has never set foot in Ann Arbor.
The first thing to note is that Washington has been committed to Duke, Cal, and Michigan. Those are some of the better academic institutions in all of the whole FBS, so he must have a pretty decent head on his shoulders. He also looks like a pretty decent quarterback who could probably play the position at some FBS schools, so his understanding of the game should be better than the average guy corner entering college. He also has good speed, although the 4.3 thing is a little too low for belief. He is tall and lanky, which should help him when trying to defend jump balls and such.
I question whether Washington has the hips to be a big-time corner. He's a little bit stiff in the upper and lower body, and he does not transition out of a backpedal very well. As one might expect of someone who's primarily a quarterback, he also lacks tackling technique and doesn't pack much of a punch. Some of these things are technique issues - and strength and conditioning issues - that can be helped with some time in college.
Overall, I look at Washington and I see Jeremy Clark, who's a 6'4" safety for Michigan. Clark also got a shot to play corner when he first arrived on campus, although he was a little more physical than Washington is. It's a little bit difficult to project how a quarterback will transition to defense, but he has some physical skills, appears to have a good mental makeup, and should have some time to let his body and skills mature before Michigan needs him on the field. Washington is a guy who seems like he might not play significant time until he's maybe a redshirt junior or so, but Michigan will need cornerbacks sooner than that. Blake Countess will graduate after 2015, and Jourdan Lewis will be a junior this year.
Clark is the only cornerback in Michigan's 2015 class and joins safety Tyree Kinnel as the two defensive backs. He is also the first player to come out of Alabama since Max Martin in 2004. Perhaps coincidentally, Michigan has already extended an offer to Washington's backfield mate Kingston Davis, a 2016 running back who's a powerhouse at 6'1", 230 lbs. The presence of Washington might help the Wolverines in their pursuit of Davis.
TTB Rating:
68 (
ratings explanation
)
You can see his offensive highlights here (
LINK
) but here are his defensive highlights: