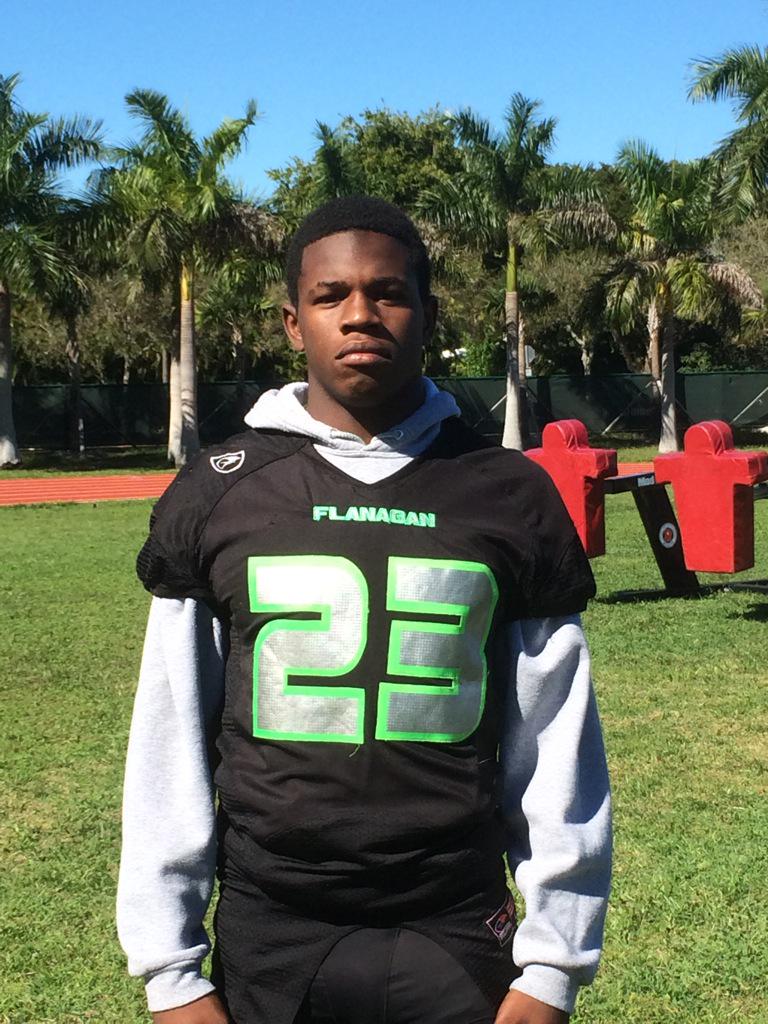 Pembroke Pines (FL) Flanagan safety Josh Metellus
Pembroke Pines (FL) Flanagan safety Josh Metellus committed to Michigan on Wednesday. He chose the Wolverines over offers from Florida International, Miami-OH, Middle Tennessee State, and South Alabama, among others. He had been committed to Georgia Southern until a visit to Michigan last weekend.
Metellus is 6'0", 187 lbs.
RATINGS
ESPN: Unranked
Rivals: 2-star S
Scout: 2-star S
247 Sports: Unranked
Metellus committed to Georgia Southern in March. Meanwhile, he had two teammates who picked up Michigan offers: linebacker Devin Bush, Jr. and fellow safety Devin Gil, who was committed to Miami. Michigan was going hard after Bush especially, and they set up a satellite camp with Flanagan's head coach Devin Bush hosting just outside of Miami. Metellus showed up to the camp and earned an offer. He and the other two Flanagan players visited Michigan this past weekend, and both committed prospects chose to decommit while on the trip. Now Metellus is committed (Gil's decision is still pending).
Metellus looks to be a shade under 6'0" and while his highlight film says he's 195 lbs., that is also questionable. Regardless, he has average size for a safety. The first thing that jumps out about Metellus is that he brings everything he has when he comes up to tackle. He's a solid tackler and can patrol the middle. He wraps up well and runs his feet through contact. I also think he does a good job in run fits and can wade through the trash, changing direction well in small spaces to dodge blockers and find the ball carrier. Metellus tracks the ball well in the air, and it looks like he does a good job of keeping things in front of him.
What Metellus isn't is a guy who leaps off the screen for any particular reason. He is a solid but unspectacular football player. He lacks great size and will need to get in the weight room so he doesn't get overpowered. He lacks great speed and is not a dynamic runner if he gets the ball in his hands.
I see a player whose ceiling looks like that of Thomas Gordon, who started at Michigan for a few years but was never outstanding. He did happen to be a turnover machine a few years ago with a couple picks and some fumble recoveries, but that did not last. Gordon bulked up in college and was a solid player.
Michigan now has 16 commits in the 2016 class. Metellus is the first true safety, although both Kiante Enis and Antwaine Richardson could end up there eventually. The Wolverines are not in dire need of safeties, since the only senior is Jarrod Wilson. He is also the third player from Florida, joining Richardson and defensive end Rashad Weaver. There is at least a decent chance that Bush and Gil join him in committing to the Wolverines.
TTB Rating:
71 (
ratings explanation
)