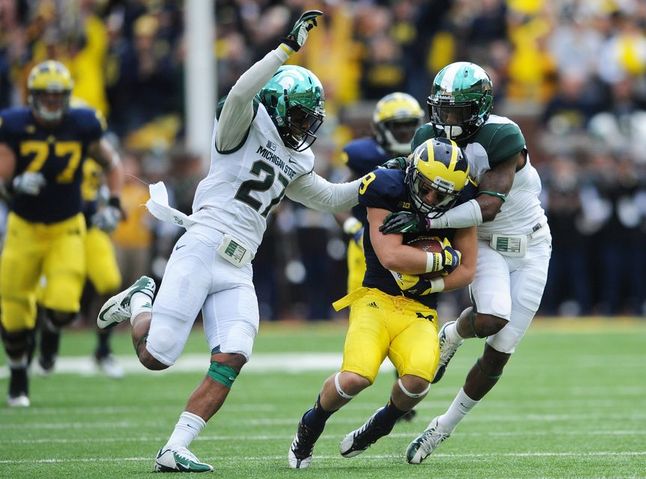 Drew Dileo
Let's see more of this guy on offense . . .
Drew Dileo. He's not a big-play threat in the sense that he'll run a long way after the catch or break open deep, but he's a very clutch receiver who just finds ways to get open. And when the ball gets thrown to him, he catches it. Knock on wood.
Let's see less of this guy on offense . . .
Jeremy Jackson. Denard Robinson targeted Jackson deep a couple times, and it was uneventful. Jackson is a slow possession receiver. If you want to run someone deep, send Gardner, Roundtree, or Gallon. Heck, even Amara Darboh runs better than Jackson, though the former is just a freshman. Jackson isn't even that great of a blocker, so I'm not sure why he's seeing so much time.
Let's see more of this guy on defense . . .
Raymon Taylor. I'm not Taylor's biggest fan, but I'm starting to get concerned about the cornerback depth once again. With starter Blake Countess out for the season and his replacement Taylor knocked out of the game on Sunday, Michigan was nearing the bottom of the barrel. The only scholarship corners left are sophomore Delonte Hollowell and freshman Terry Richardson, both of whom are tiny and inexperienced.
Let's see less of this guy on defense . . .
nobody. The defense is playing very well.
Play of the game . . .
in a tight game like this, there were lots of key plays. One was Thomas Gordon raking the ball out of the tight end's hands on the goal line. Another was Robinson's late throw to Dileo to set up the field goal. But I have to give this one to Brendan Gibbons for hitting the 38-yard, game-winning field goal.
MVP of the game . . .
Drew Dileo. Yeah, somebody had to throw the passes, but Michigan's receivers were struggling to get open and struggling to hold onto the ball. But Dileo didn't really have those issues. He was also the holder on all four field goals.