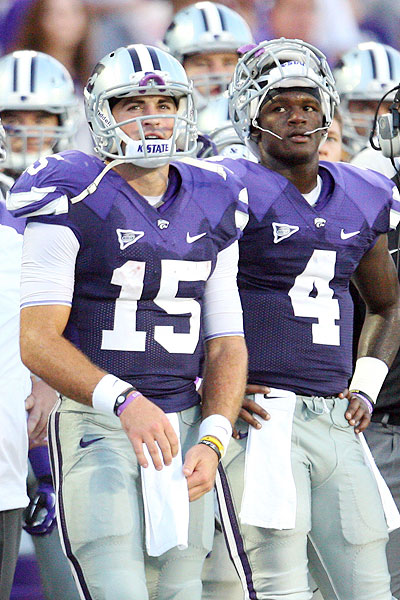 Jake Waters (#15) and Daniel Sams (#4)
MICHIGAN
Starter:
Redshirt junior
Devin Gardner
(6'4", 210 lbs.) started all twelve games for Michigan this year and had a roller coaster of a season. He put up pretty solid overall statistics (60% completions, 2960 yards, 21 touchdowns, 11 interceptions), but the early part of the year was marred with interceptions and fumbles against some mediocre teams. Gardner is a very mobile quarterback in the mold of the San Francisco 49ers' Colin Kaepernick, but he has been slowed by injuries suffered behind a poor offensive line. He has the physical ability to make any throw and to outrun most defenders (483 yards and 11 scores on the ground), but the confidence to make those plays waned after he threw 10 interceptions in the first six games. The ball security improved during the second half of the year, and he turned in a dazzling performance against Ohio State in the regular season finale (32/45, 451 yards, 4 touchdowns).
Backups:
Freshman
Shane Morris
(6'3", 201 lbs.) played sparingly this year, attempting just 9 passes; he completed 5, threw for 65 yards, and had 1 interception. In one late-game series against Michigan State, he literally fell on his face while trying to scramble for a first down. Morris is strictly a pocket passer who has a strong tendency to throw only to his left. Redshirt freshman
Brian Cleary
(6'3", 209 lbs.) has barely played at all and is a walk-on.
KANSAS STATEStarters:
The Wildcats have a two-platoon system at quarterback, with redshirt junior
JakeWaters
(138/233, 59% completions, 2198 yards, 15 touchdowns, 9 interceptions) being the thrower and redshirt sophomore
Daniel Sams
being the runner (38/52, 73% completions, 452 yards, 4 touchdowns, 4 interceptions. Sams has 784 yards and a 5.3-yard average, along with 11 touchdowns; Waters isn't bad on the hoof with 270 yards, 2.6 yards/carry, and 6 touchdowns. Sams (6'2", 207 lbs.) is a spindly-legged runner who runs a little like Devin Gardner, but he's more unrefined as a passer and can get spooked fairly easily, which isn't a terrible thing if you can take off and run. When he's in the game, look for single wing type of plays that are designed quarterback runs, with guards pulling and fullbacks leading up through. A Big Ten corollary might be former Purdue quarterback/running back Justin Siller. Waters (6'1", 210 lbs.) is a junior college transfer who was the National Junior College Athletic Association Player of the Year last season at Iowa Western. He has a quick release and a strong arm, but he's not the most accurate guy and can force some throws. He can run a little bit inside, but he's not the type of guy to threaten the edge.
Backups:
No other quarterback has attempted a pass this year.
THE TAKEAWAY
Gardner is a better quarterback than Waters or Sams, but the Wildcats have a pretty effective combination. When Gardner is on his game like he was against Ohio State, he's virtually unstoppable because he can run and throw; when he's scared of the pass rush, he gets tentative, pulls his eyes down, and plays tight. His play is largely dependent on whether Michigan can establish a running game and protect him. Waters is coming off a poor three-game stretch where he completed 50% of his passes for 7 touchdowns and 4 picks against TCU, Oklahoma, and Kansas; Sams barely played against the latter two, but had 109 yards rushing against the Horned Frogs. Michigan has done just enough against the two-headed quarterback system of Northwestern over the past couple years to eke out a couple wins. Sams at quarterback is pretty much a telegraphed run, so we'll see if the Wolverines can handle the Wildcats up front.
ADVANTAGE: Michigan