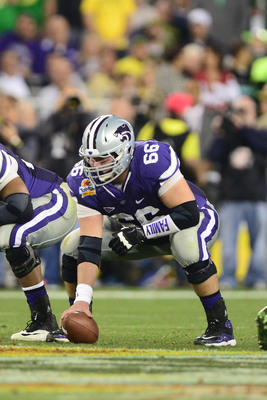 Kansas State center B.J. Finney is the Big 12
conference's top player at his position.
MICHIGAN
Starters:
Fifth year senior left tackle
Taylor Lewan
(6'8", 315 lbs.) has been an All-American and First Team All-Big Ten in 2012 and 2013, and he's projected as a first round pick in next year's NFL Draft. Redshirt freshman
Erik Magnuson
(6'6", 295 lbs.) has played left guard, right guard, and right tackle this year, but none of them particularly well. He has decent feet but struggles at the point of attack. Redshirt sophomore
Graham Glasgow
(6'6", 303 lbs.) was the starting left guard early in the year, took over the center position against Minnesota, and will likely start his thirteenth game of the season on Saturday night. Glasgow had several bad snaps in his first weeks as the center, but the snapping issues have largely been eliminated in the last couple games. Redshirt freshman
Kyle Kalis
(6'5", 302 lbs.) lost his job after his early-season performance, but now he's back at right guard. He lacks the foot speed to be effective on zone stretches, and the offense evolved at the end of the year toward more of an inside zone running system to accommodate the likes of Kalis. Fifth year senior right tackle
Michael Schofield
(6'7", 304 lbs.) is a three-year starter and was named Honorable Mention all-conference this year, and some draft projections have him going as high as in the second round this coming April.
Backups:
True freshman
Kyle Bosch
(6'5", 302 lbs.) started three games late in the year after redshirt junior Joe Burzynski tore his ACL. Bosch showed some promise but looked overwhelmed and eventually gave his job back to Kalis, who had been benched in favor of Magnuson. Redshirt sophomore
Jack Miller
started the first four games of the season at center and has not been heard from since getting benched for Glasgow. Redshirt sophomore
Chris Bryant
(6'4", 316 lbs.) made two starts at at left guard before getting benched in the middle of the Penn State game.
KANSAS STATE
Starters:
Fifth year senior
Cornelius Lucas
(6'9", 328 lbs.) was a First Team All-Big 12 selection in 2012, but this year he was just Honorable Mention. Redshirt sophomore
Cody Whitehair
(6'4", 309 lbs.) was Second Team All-Big 12 this season. Redshirt junior
B.J. Finney
(6'4", 303 lbs.) was named the best center in the conference. Redshirt sophomore
Boston Stiverson
(6'4", 312 lbs.) started a couple games as a redshirt freshman and is the team's top backup lineman this year, and he's been filling in for an injured Keenan Taylor at right guard. Senior
Tavon Rooks
(6'5", 280 lbs.) has been the starting right tackle for the past two seasons, earning Honorable Mention all-conference in both his years on campus.
Key backup:
Fifth year senior
Keenan Taylor
(6'4", 290 lbs.) is questionable for the bowl game due to a knee injury, but he started all 13 games last year at right guard. Stiverson has been starting in his stead for the past few weeks, but Taylor should be in there if healthy.
THE TAKEAWAY
Michigan is tied for 111th in the country with 35 sacks allowed, and they're #101 with 131 yards/game given up on the ground. The paltry 3.25 yards/carry average ranks them 114th. Kansas State is #54 nationally with 180 yards/game on the ground, and they're #51 with 4.53 yards/carry. They've also allowed 24 sacks, which is tied for #62 in the country. So while Kansas State is a wee bit above average, they're still a long ways ahead of Michigan in many ways. The Wildcats also have a few guys with all-conference accolades, while Michigan's Taylor Lewan has been pretty lonely when it comes to postseason accolades.
ADVANTAGE: Kansas State