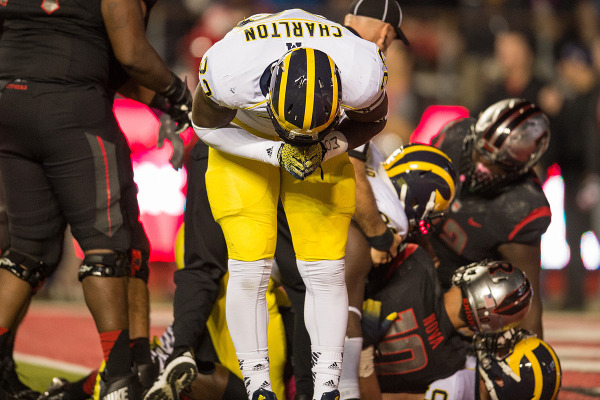 Taco Charlton
Name:
Taco Charlton
Height:
6'6"
Weight:
273 lbs.
High school:
Pickerington (OH) Central
Position:
Defensive end
Class:
Junior
Jersey number:
#33
Last year:
I ranked Charlton #38 and said he would be a backup strongside end
. He made 19 tackles, 5.5 tackles for loss, and 3.5 sacks.
For a backup defensive end, it's hard to argue much with Charlton's production last season. He started one game against Rutgers, but he was mostly a backup to Brennen Beyer throughout the season. He got to the quarterback against Maryland, Rutgers, Minnesota, and Appalachian State, and he had three tackles against the Buckeyes. It was a decent year, but it was also somewhat forgettable. Charlton did not leap out as a player who was forcing his way into the starting discussion, and Beyer was not a standout whose play demanded a starting position, either. Charlton was largely inconsistent, making a good play here followed by getting out of position there.
This season Charlton might find himself playing a backup role again. Redshirt junior Chris Wormley had a good spring by all accounts, and Charlton missed a chunk of time to injury, including the spring game. Wormley has been mostly a defensive tackle during his career so far, but the coaching staff thinks his speed can hold up on the edge. If that's not the case, then Charlton is capable of stepping in to play the position. The worry with Charlton is his inconsistency. He's tall and has put on some good weight, but sometimes he stands up too high, sometimes he gets out of his gap, and sometimes he gets too deep. Those are the reasons that he was behind Beyer last season, and those might be what keep him behind Wormley this season. Michigan does not have many options beyond Charlton, which increases his value here. Henry Poggi made a move to offense in the spring, Tom Strobel has barely played during his career, and guys like Reuben Jones and Shelton Johnson are small and freshmen. Charlton will get plenty of playing time, but his consistency needs to improve if he wants to force his way into the starting lineup.
Prediction:
Backup strongside end