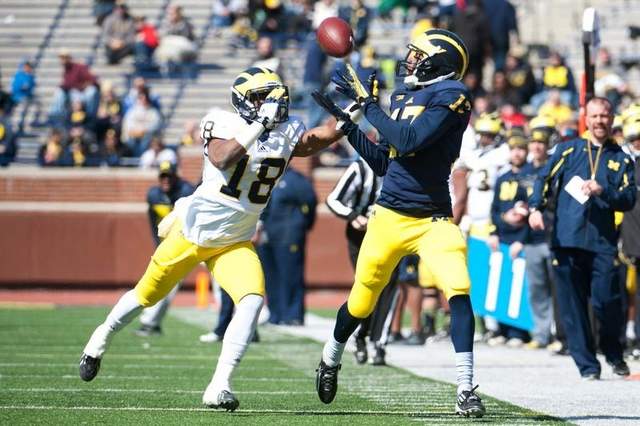 Freddy Canteen
Name:
Freddy Canteen
Height:
6'1"
Weight:
185 lbs.
High school:
Elkton (MD) Eastern Christian Academy
Position:
Wide receiver
Class:
Sophomore
Jersey number:
#17
Last year:
I ranked Canteen #18 and said he would be a starting slot receiver with 25 catches, 400 yards, and 4 touchdowns
. He started two games and had 5 catches, 22 yards, and 1 touchdown.
Canteen earned a lot of hype in the spring of 2014, which carried over into the season. I reached on him. I made the mistake of believing, like children believe in Santa Claus or like Plaxico Burress believed Nick Saban. The whole world is a lie.
Canteen, the self-professed fastest player on the team, averaged 4.4 yards a catch and scored once. He played regularly, but he was not a staple of the offense. Maybe he could have contributed more, but Michigan's passing offense was terrible as a whole, from the play calling to the quarterback to the protection to the receiver play. Canteen was targeted only a handful of times, and I think he dropped one pass. It was a forgettable season.
On the plus side, Canteen got some game experience. The Wolverines are searching for a breakout receiver this year, since Amara Darboh is the only truly established receiver, and he is a possession guy only. Canteen still has the quickness to beat people, but he needs to be used in some of the same ways that former wideout Roy Roundtree was - bubble screens, seam routes, etc. The receivers as a whole don't really stand out, so not many of them deserve to be ranked too high on this list. Canteen will probably continue to play in the slot, but Michigan potentially has other options with redshirt junior Jehu Chesson, freshmen Brian Cole and Grant Perry, and perhaps senior Dennis Norfleet. Michigan will not light up opponents through the air, so it would be nice to see an incremental step forward from Canteen.
Prediction:
Starting slot receiver; 15 catches, 175 yards, 2 touchdowns