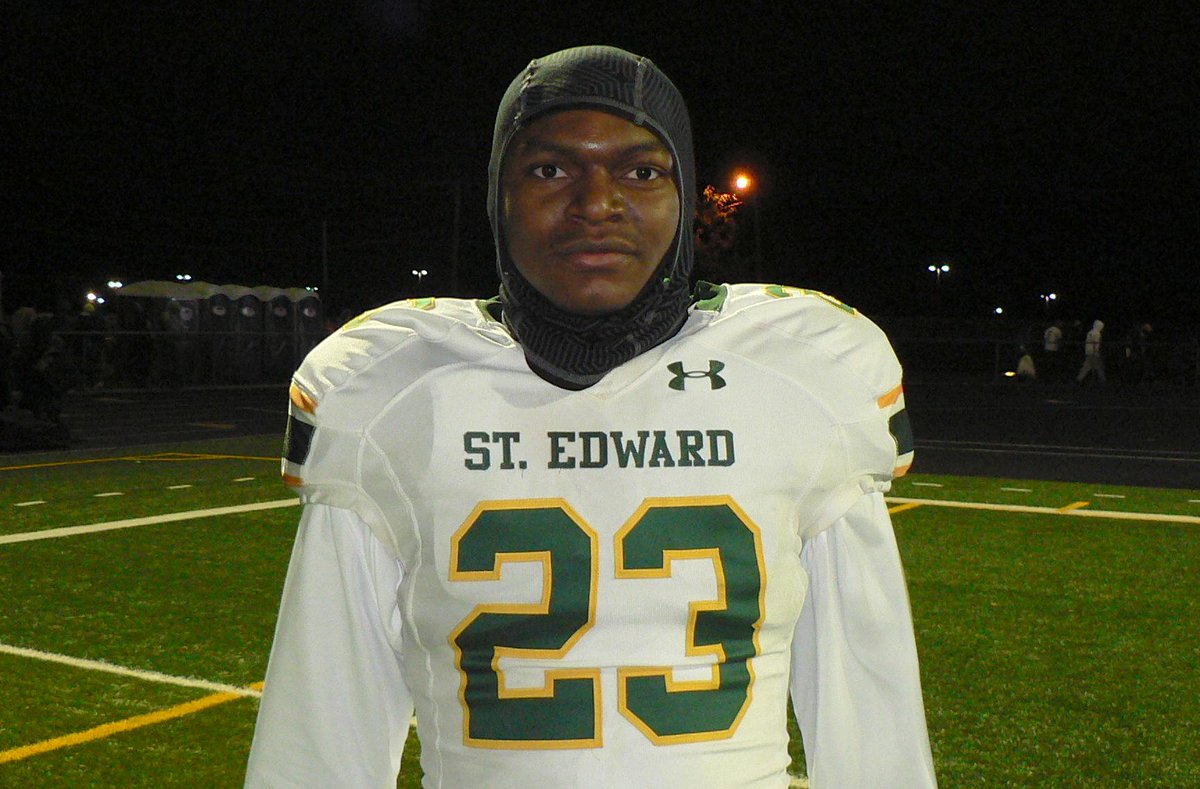 Lakewood (OH) St. Edward cornerback Tony Butler could be Michigan's next commit
Over the weekend, I pre-ordered John U. Bacon's new book.
Endzone: The Rise, Fall, and Return of Michigan Football
is available on Amazon (
LINK
).
---------------
ADDED TO THE BOARD: 2016
Lakewood (OH) St. Edward cornerback
Tony Butler
decommitted from Pitt. This was a long time in the making, but it was tough for Butler, who said he considered new Pitt head coach (and former Michigan State defensive coordinator) Pat Narduzzi a bit of a father figure. Former St. Edward head coach Rick Finotti is now Michigan's director of football operations. Butler is 6'2", 195 lbs. and is a 247 Composite 3-star, the #57 cornerback, and #622 overall. He is now expected to commit to Michigan at some point (he will visit Michigan this weekend) unless Ohio State swoops in with an offer.
St. Petersburg (FL) Farragut safety
Craig Watts
decommitted from Wisconsin. Watts is a 6'0", 180 lb. prospect who also has offers from Alabama, Florida, Florida State, Miami, and Ohio State, among others. He's a 247 Composite 4-star, the #16 safety, and #287 overall. He is not expected to consider Michigan. He just committed to Wisconsin in late June, so this was quite a quick change of heart.
Hit the jump for a couple new 2018 offers, numerous players who committed elsewhere, some news from the Elite 11/The Opening, and some random tidbits.
ADDED TO THE BOARD:
2018
Jersey City (NJ) St. Peter's Prep defensive end
Jayson Ademilola
was offered by Michigan. Ademilola is a 6'3", 260 lb. prospect with offers from Connecticut, Miami, and Rutgers, among others. He's a thick kid already who looks like he could very well be a defensive tackle by the time he matriculates through high school. Michigan has been recruiting New Jersey heavily, and he is supposed to visit Ann Arbor for the BBQ in the Big House in August, along with several other New Jersey-area prospects.
Jersey City (NJ) St. Peter's Prep linebacker
Justin Ademilola
was offered by Michigan. He's a 6'3", 225 lb. prospect with offers from Boston College, Connecticut, Rutgers, and Virginia. The twin brother of Jayson, Justin is a little lighter and looks like he could play tight end, linebacker, or defensive end at the next level. He will also visit Michigan in August.
OFF THE BOARD
Lakeland (FL) Lake Gibson defensive tackle
Keyshon Camp
committed to USC. One of Camp's coaches is former Michigan offensive guard Ricky Barnum, but Camp never visited Michigan and the Wolverines never seemed to be a threat.
Abbotsford (BC) Abbotsford tight end
Chase Claypool
committed to Notre Dame. Claypool's recruitment was a bit of a whirlwind. He picked up some steam going into the Sound Mind Sound Body camp, took a few visits, and went from an Oregon "lock" to a Notre Dame commit within the span of a few weeks. A jumbo wide receiver at this point, he will probably be a tight end in college.
Norfolk (VA) Lake Taylor cornerback
Wayne Davis
committed to Ohio State. He had recently put Michigan in his top three despite never visiting Ann Arbor, so it was pretty clear that the Wolverines would not be the choice unless he held off on committing.
Norco (CA) Norco safety
Troy Dye
committed to Oregon. Ranked as a safety, he's 6'3", 210 lbs. and I think he'll probably end up as a linebacker. He's a teammate of quarterback commit Vic Viramontes and was also offered during Michigan's Summer Swarm tour.
Oakland (CA) Bishop O'Dowd linebacker
Camilo Eifler
committed to Washington. Eifler was initially excited about the potential of playing for Jim Harbaugh, but that enthusiasm wore off and it was basically a foregone conclusion that he would be committing to the Huskies.
Fort Lauderdale (FL) St. Thomas Aquinas wide receiver
Michael Irvin, Jr.
committed to Miami. It was another unsurprising commitment since his dad was former Miami Hurricane (and Dallas Cowboy) great Michael Irvin.
Sachse (TX) Sachse cornerback
Jared Mayden
committed to Oregon. He's the 247 Composite #134 overall player and Ohio State had been predicted by some, so this keeps him out of Big Ten country. Meanwhile, teammates Devin and Donovan Duvernay have Michigan offers but are not strongly considering the Wolverines.
Arvada (CO) Pomona offensive tackle
Jake Moretti
, a 2017 prospect, committed to Ohio State. He's the 247 Composite #63 overall player and had been considering the Wolverines, having visited Ann Arbor this spring.
Rockford (MI) Rockford kicker
Quinn Nordin
committed to Penn State. He created quite a stir with his announcement, since he made a video of himself getting off of a private jet (
LINK
). Some people gave him a hard time because he made such a big deal and he's "only" a kicker. Personally, I have no problem with that. The only problem I have with it is that the video is kind of lame. Anyway, Michigan
probably
could have secured his commitment if they wanted him, but the coaches are reportedly so confident in several other non-specialists that they did not feel the need to take a kicker in a second consecutive class (Michigan got Andrew David in 2015), even if he is the #1 kicking prospect in the country.
Gardena (CA) Junipero Serra safety
C.J. Pollard
continued the long line of Serra players who commit to USC. Pollard was initially excited about his Michigan offer, but he never visited.
West Hartford (CT) Kingswood-Oxford linebacker
Koby Quansah
committed to Duke. The Blue Devils now have three players committed who held Michigan offers (Quansah, Virginia WR Scott Bracey, and North Carolina CB Mark Gilbert), which might be the first time in history that has happened.
La Puente (CA) Bishop Amat wide receiver
Trevon Sidney
committed to USC. The U.S. Army All-American was expected to become a Trojan, and USC had 100% of the Crystal Ball votes.
Fort Worth (TX) All Saints Episcopal defensive tackle
Michael Williams
committed to Stanford. He's the #228 overall player in the country.
Portland (OR) Central Catholic linebacker
LaMar Winston
surprised no one by picking Oregon. Michigan had been recruiting him as an "athlete" - either a linebacker or a tight end - but there's really no reason to leave the state of Oregon at this point unless you want the real-life Get Out of Jail Free cards passed out in Tallahassee.
ELITE 11 AND THE OPENING
Avon (IN) Avon quarterback
Brandon Peters
, a Michigan commit, was named to the Elite 11 group of quarterbacks. He was never the front-runner, but he performed well throughout the week. In alphabetical order, the other players were Shane Buechele (Texas),
K.J. Costello
(Stanford),
Jacob Eason
(Georgia), Feleipe Franks (LSU),
Jarrett Guarantano
(Tennessee),
Dwayne Haskins
(Maryland),
Malik Henry
(Florida State), Brandon McIlwain (South Carolina),
Shea Patterson
(MVP, Ole Miss),
Peters
, and Anthony Russo (Rutgers). Former Michigan commit
Messiah DeWeaver
(Michigan State) finished outside of the top eleven. Players holding Michigan offers are in bold. I'm not sure if this means anything, but the only quarterback Michigan offered in 2016 who wasn't at least participating in the Elite 11 is Michigan commit
Victor Viramontes
, a dual-threat/athlete type.
Peters measured in at 6'4 1/2" and 209 lbs. He ran a 4.81 forty, a 4.39 shuttle, and showed a 31.5" vertical.
Paramus (NJ) Catholic defensive tackle
Rashan Gary
won the MVP award for the defensive linemen. There were some feelings that he is the best defensive lineman to have come through The Opening since its inception in 2011.
Sachse (TX) Sachse cornerback
Jared Mayden
said he plans to take an official visit to Michigan. As pointed out above, he committed to Oregon at The Opening.
Bradenton (FL) IMG Academy tight end
Isaac Nauta
is "definitely" going to take an official visit to Michigan. He was Michigan's first offer in the 2016 class, and he is currently the #26 player overall in the 247 Composite rankings. Unfortunately, he's committed to Florida State. Nauta is transferring from Georgia to IMG Academy for his senior year.
Detroit (MI) Cass Tech wide receiver
Donovan Peoples-Jones
became the first underclassman to win the SPARQ championship. He measured in at 6'2", 185 lbs. and ran a 4.42 forty. He also had a 4.00 shuttle, a 43.5" vertical, a Powerball toss of 42.4', and an overall score of 149.49.
Montgomery (AL) Carver linebacker
Lyndell Wilson
said he plans to take an official visit to Michigan. Wilson is extremely fast and athletic for a linebacker and is a 5-star player.
MISCELLANEOUS
Fresno (CA) Clovis West linebacker
Caleb Kelly
named Michigan to his top seven, and the Wolverines are thought to be neck-and-neck with Oklahoma for the lead right now.
Viera (FL) Viera wide receiver
Tre Nixon
named a top ten that does not include Michigan.