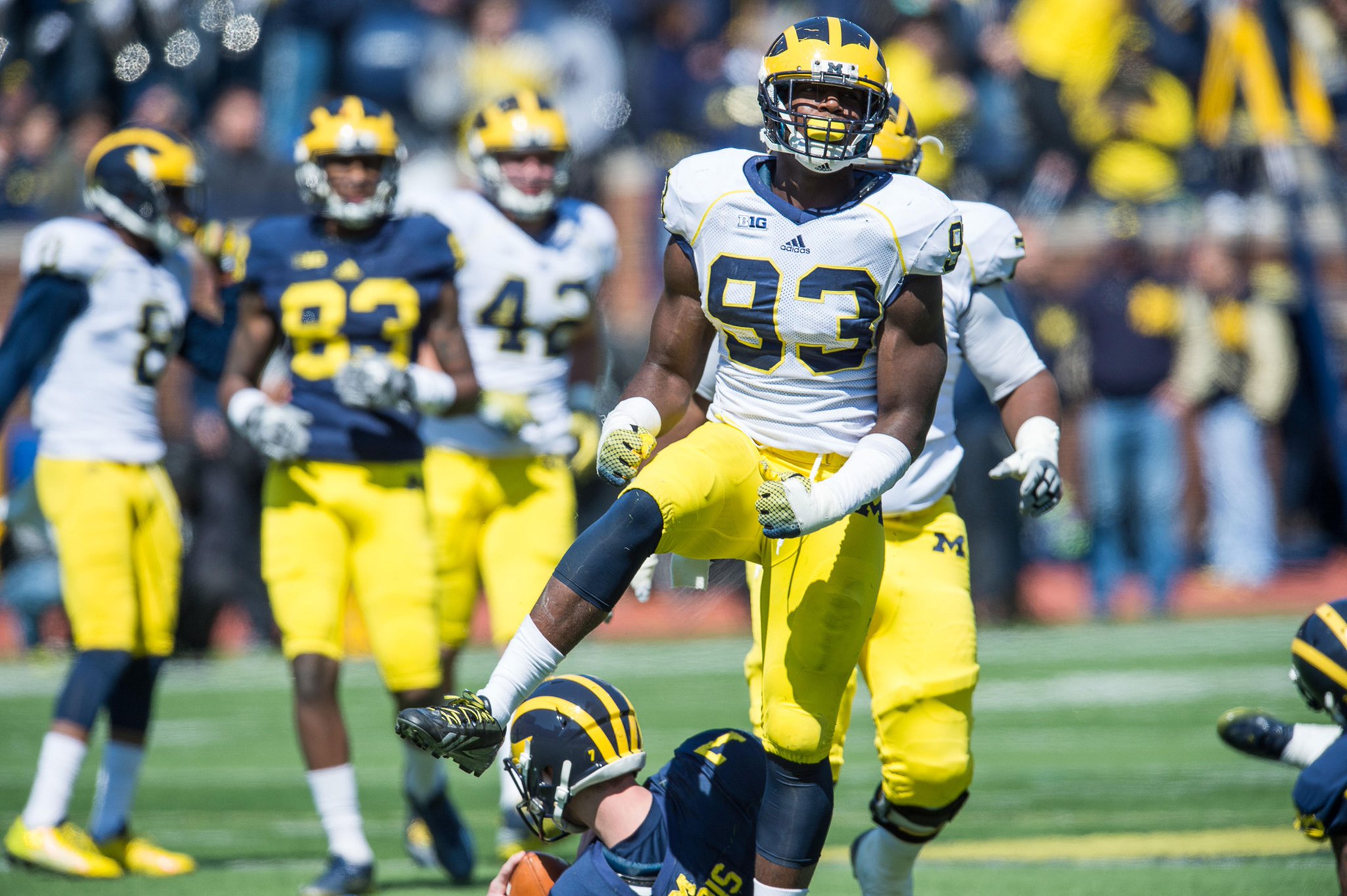 Lawrence Marshall
Name:
Lawrence Marshall
Height:
6'4"
Weight:
238 lbs.
High school:
Southfield (MI) Southfield
Position:
Defensive end
Class:
Redshirt freshman
Jersey number:
#93
Last year:
I ranked Marshall #50 and said he would be a backup weakside end
. He redshirted.
Michigan has not done a great job of stockpiling rush ends in recent years. That nearly caught up with the Wolverines last year when the team had very few options. Frank Clark was kicked off the team, leaving Mario Ojemudia as the only experienced player at the position. I thought Marshall might get a chance to play just to get his feet wet for 2015, but it didn't happen. The coaches had a short rotation throughout the season.
Michigan has a little more depth this year now that a couple freshmen (Shelton Johnson, Reuben Jones) have been added to the roster, but they are obviously inexperienced, too. Marshall is listed as a defensive end, but he will play the Buck linebacker position, which is roughly the weakside end that existed under the previous staff. Ojemudia should inherit the starting job, but the backup situation is unclear. Senior Royce Jenkins-Stone played there in the spring, but much like Brandon Herron during the Rich Rodriguez era, he's undersized and doesn't really have the skills you're looking for in a weakside end. Marshall is a defensive end by trade, has a bigger frame, and earned some buzz in the spring for his pass rushing abilities. In the spring game, Marshall made a nice looking play where running back Wyatt Shallman whiffed on the block and Marshall took down quarterback Shane Morris for a sack. He should see a fair amount of playing time this season.
Prediction:
Backup Buck linebacker