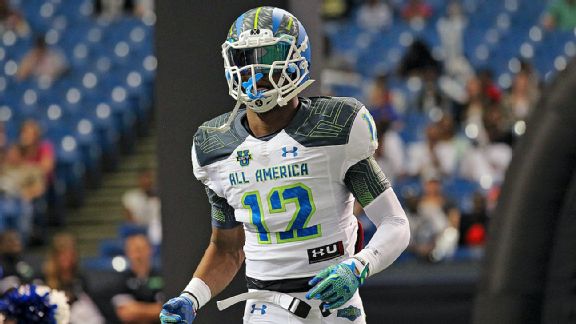 Brian Cole
Name:
Brian Cole II
Height:
6'2"
Weight:
200 lbs.
High school:
Saginaw (MI) Heritage
Position:
Wide receiver
Class:
Freshman
Jersey number:
#81
Last year:
Cole was a senior in high school
. He was a 247 Composite 4-star, the #5 athlete, and #73 overall.
TTB Rating:
84
Cole was a tantalizing prospect coming out of high school. A top-100 athlete, he spurned some quality programs for Michigan. That included Michigan State, who were thought to be the leaders at one point. He did a little bit of everything for Heritage - running back, wildcat quarterback, receiver, safety, punter, returner, etc. He did not play great competition at Heritage, but he was extremely productive even when defenses understood he was by far the team's biggest threat. Cole also reportedly had some discipline issues and missed some time as punishment.
Cole enrolled early this past January and participated in spring ball. He did not stand out in the spring game, and he received only sporadic buzz in the spring, with practice observers saying he will be good someday. That day will not necessarily come in 2015. He needs to mature a little bit physically, and he is not polished as a wide receiver. Michigan's staff plans to use him in the slot, where he can run some short routes, use his running skills, and maybe pop down the seam once in a while. I don't think Cole is ready to be a starter just yet, so I think he will be coming off the bench to begin. He also has potential as a returner, but Jabrill Peppers - and Dennis Norfleet, if he gets reinstated - should be able to handle the return duties this season.
Prediction:
Backup slot receiver