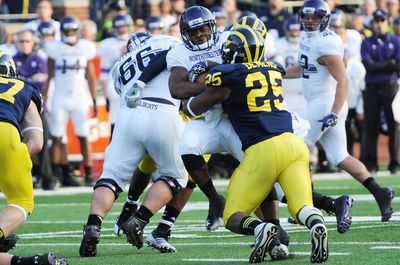 Kenny Demens makes the game-clinching tackle (image via AnnArbor.com)
Kenny Demens goes boom.
In Friday's game preview, I predicted that Demens would have a big game. It seemed like the coaches were trying to give him a breather by playing Joe Bolden a little bit, but I'm really not sold on Bolden being ready for Big Ten play right now; he'll be good but he's not yet. Back to my point, Demens stepped up in a big way late in the game by making the final two tackles, including a thumping hit on Northwestern superback Tyris Jones to end the game. Games against a team like Northwestern set up well for someone like Demens, who can take on Northwestern-caliber linemen and still make plays on interior runs. He did get burned for a touchdown in pass coverage, but he was covering a wide receiver, which was hardly a fair contest. Demens ended the game with 9 tackles and 2 tackles for loss.
Devin Gardner for Heisman?
Okay, not really the Heisman, but Gardner has played really well in Denard Robinson's stead. Brady Hoke insists that the offense doesn't really change when Gardner takes over for Robinson, but nobody who watches these games can actually believe that. I felt bad for Kain Colter when he got hurt late in the game, but I didn't feel bad for Northwestern, because Michigan was already down their starting quarterback. For Gardner to be so inexperienced and still have the ability to come out and beat the #24 team in the country speaks well for him. And, oh by the way, some guys really stepped up and made plays for Gardner. The junior QB finished the game 16/29 for 286 yards, 2 touchdowns, and 1 interception, along with 9 rushes for 47 yards and 2 touchdowns.
Roy Roundtree is stepping up.
I don't know why, but Roundtree has stepped up his game now that Gardner is playing quarterback. Robinson and Roundtree are close friends, so I'm sure it's not related to a lack of personal chemistry. It just seems like Roundtree has realized that he needs to step up to help out his inexperienced quarterback. I wish it had happened earlier, but I'll take it now. He had 5 receptions for 139 yards, and his final reception in regulation was a juggling catch he made while the Northwestern defensive back interfered with him. (No interference was called, but it should have been.)
Michigan won the game in the trenches.
Brady Hoke's philosophy seems to be that he wants to wear teams down, and Michigan will do so more consistently when the offensive line improves. Right now Michigan's interior offensive linemen are just average, but by the fourth quarter, they had sufficiently worn down the Wildcats' interior. Toussaint started to get some running room . . . which is why I was frustrated with Michigan's play call on the penultimate regulation drive, after Dennis Norfleet had returned a kickoff to Michigan's 47-yard line. Al Borges had overused the play action pass up to that point, because Michigan hadn't been running the ball. So when Borges called a post-wheel (for Gallon and Funchess, respectively), Northwestern hadn't learned to respect the run yet. He put the game on Gardner's shoulders, and while Gardner has been playing well, he hadn't been in a situation this year when Michigan
needed
a crunch-time drive from him. Michigan could have moved the ball by running on the interior with about four minutes left and down by three points. What happened the next time Michigan had a chance to run it, in overtime? Fitzgerald Toussaint ran for 5 yards, then 3 yards, and then Gardner ran a bootleg for the game-winning touchdown.
Stop kicking to Venric Mark!
Mark is one of the most explosive players in the Big Ten, but Michigan's kickers and punters couldn't seem to help themselves from kicking to him. He burned Michigan for a 96-yard kickoff return late in the game, but one of the Wildcats held Brandin Hawthorne and got flagged for it.
Northwestern doesn't throw well except against Michigan.
Backup quarterback Trevor Siemian completed 6/7 passes for 87 yards and 2 touchdowns. Kain Colter was slightly less successful at 8/14 for 96 yards and 1 touchdown. Michigan struggled with the pace of Northwestern's offense, and the Wolverines were beaten on the edge several times (partly because of numerous obvious holding calls that weren't noticed by the referees). Northwestern could run and pass on Michigan's defense, and there was no consistent answer until overtime. That answer was, of course, Kenny Demens.
Jordan Kovacs is now #11.
I don't really care. It's just a number. Before the game Kovacs was honored by being given the #11 jersey that was previously worn by the three Wistert brothers - Francis, Albert, and Alvin. I've seen the argument that this prevents Kovacs from becoming a legend jersey down the road, but come on, Kovacs isn't a legend. He's a walk-on who turned into a pretty good player, but that doesn't make him a legend. I also don't think Michigan should give Legend jerseys to true freshmen, who still have three years to taint the number with drunk driving arrests, stealing laptops, etc.
Michigan is 7-3.
The team and fans should consider themselves slightly lucky to come out of this weekend with a victory. Being 7-3 at this juncture isn't too bad, considering that Michigan has been without its starting quarterback for the last 2.5 games. Regardless of the opponents, they have scored 35 and 38 points with the backup QB. The defense has picked up its game at critical junctures, and the offense is doing enough to make games winnable, at least when Russell Bellomy isn't in the game. The Wolverines
should
beat Iowa, and that would lead up to the ballyhooed game against Ohio State.