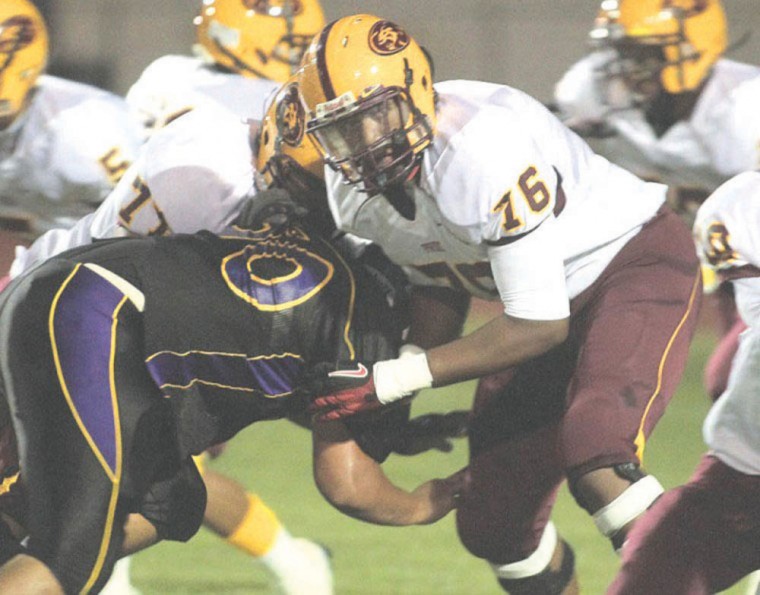 Phoenix (AZ) Mountain Pointe offensive tackle Kenny Lacy
Name:
Kenny Lacy
Height:
6'6"
Weight:
270 lbs.
Class:
2013
Position:
Offensive tackle
School:
Phoenix (AZ) Mountain Pointe
Notes:
Currently committed to UCLA as of September 10, 2012 . . . Holds offers from Arizona, Arizona State, Arkansas, Boise State, California, Colorado, Illinois, Kansas State, Nebraska, North Carolina, Oklahoma, Oklahoma State, Oregon State, Purdue, South Carolina, Texas A&M, UCLA, Utah, Vanderbilt, Washington, Washington State, and West Virginia . . . Officially visited UCLA, Arkansas, and Nebraska . . . Will visit Kansas State this coming weekend . . . ESPN 3-star OT, #40 OT, 79 grade . . . Rivals 4-star OT, #17 OT, #175 overall . . . Scout 4-star OT, #15 OT . . . 247 Sports 3-star OT, #48 OT, 87 grade
Strengths:
Lanky, athletic body . . . Room to add weight . . . Active feet . . . Athletic enough to pull and block in space . . . Agile enough to help block on screens and reach block defensive ends occasionally . . . Understands footwork and body positioning
Weaknesses:
Lacks fire . . . Seems to lack aggression . . . Plays high at times . . . Can get knocked off balance . . . More of a finesse pass blocker than a drive blocker . . . Needs to bend knees more . . . Lacks a great initial punch . . . Needs to strengthen lower and upper body
Projection:
Offensive tackle or offensive guard. Lacy could end up at either position, depending on how his body develops. He has the body of an offensive tackle right now, and his lower body really needs to get stronger if he's going to play offensive guard. I think the biggest obstacle in the way of playing time will be his on-field demeanor. He seems to give up on too many blocks and doesn't show the dominance you would expect of a high-level prospect. Some of his opponents get pancaked immediately, but it appears to be more because of the sheer size differential than unrelenting dominance on Lacy's part.
Reminds me of:
Patrick Omameh