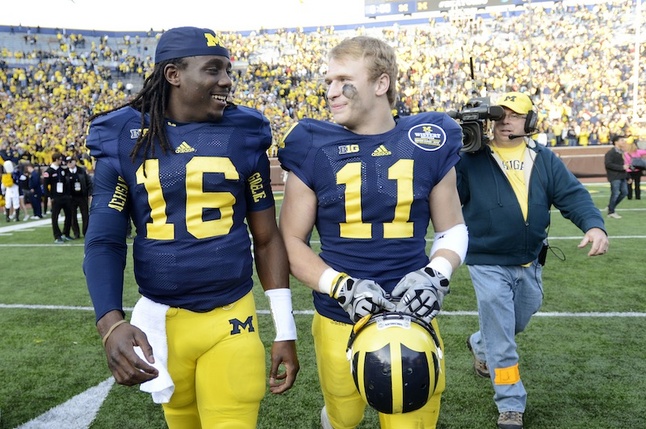 Captains Denard Robinson and Jordan Kovacs (image via AnnArbor.com)
Let's see more of this guy on offense . . .
Dennis Norfleet. Now that Fitzgerald Toussaint is done for the season, I would like to see the coaches find a role for Norfleet. Toussaint had some big-play capabilities due to his strength and good speed, and Norfleet is the only other guy who can take it to the house on any given play. Thomas Rawls has been unimpressive, Justice Hayes hasn't done much, and Vincent Smith is a third down back. I don't want or expect Norfleet to be a starter, but I would like him to get 3-5 touches out of the backfield.
Let's see less of this guy on offense . . .
Thomas Rawls. Rawls appears to be a guy who's just not quite good enough at any one thing to be a major player. He wasn't quite coordinated enough to tiptoe the sideline for a touchdown, he's not quite fast enough to get to the outside, he's not quite big and powerful enough to run over linebackers in the hole, and he doesn't have great vision. I do think he'll get better at sticking with the play and finding the hole, but not necessarily in one week.
Let's see more of this guy on defense . . .
Marvin Robinson. Robinson hasn't played a ton of defense this year, but he has been a capable tackler. He'll never light the world on fire in pass coverage, but he looks like a capable replacement for Jordan Kovacs next year. I would have liked to have seen him a little more on Saturday, although the Ohio State game might not be the best time to trot out projects.
Let's see less of this guy on defense . . .
Josh Furman. I really just don't see a future for Furman at safety. The kid has good speed and does an excellent job on special teams coverage, but he gets caught flat-footed whenever he's not attacking downhill. He might end up like a Darnell Hood or Anton Campbell, a guy who's a special teams demon his entire career but rarely sees meaningful time on defense.
Play of the game . . .
Denard Robinson's option pitch to Fitzgerald Toussaint. There were longer plays, plays that scored, and perhaps more athletic plays. But I'm choosing this one because of the creativity behind it and its success. Out of basically a wishbone formation, quarterback Devin Gardner took the snap from under center and handed it off to Denard Robinson going right; Robinson then pitched the ball to Fitzgerald Toussaint, who gained 14 yards before getting tackled. It was an exciting play to watch because it seemed to open up all kinds of possible plays for Robinson out of the backfield. Unfortunately, it ended with an ugly injury to Toussaint.
MVP of the game . . .
Devin Gardner once again. He finished the game 18/23 for 314 yards, 3 touchdowns, and 1 interception; he also ran 9 times for 37 yards and 3 touchdowns. It was a Micah Hyde interception away from being a game with virtually no faults. Of course, it helped that Iowa's defense had no clue how to play football, so thanks, Iowa!