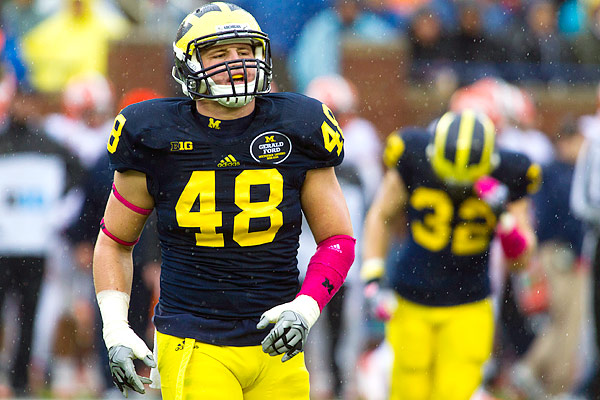 Desmond Morgan
Name:
Desmond Morgan
Height:
6'1"
Weight:
228 lbs.
High school:
Holland (MI) West Ottawa
Position:
Linebacker
Class:
Junior
Jersey number:
#48
Last year:
I ranked Morgan #20 and said he would be the starting weakside linebacker with 80 tackles and 3 sacks
. He had 81 tackles, 5.5 tackles for loss, .5 sacks, and 2 pass breakups.
Morgan was a pretty consistent player as a second-year starter in 2012. He didn't make many flashy plays, but he was dependable and the coaches could usually count on him being in the right position. He finished the season tied for third on the team in tackles (Jake Ryan was first with 88, Kenny Demens had 82, Thomas Gordon also had 81) and was awarded the #48 jersey in honor of former Wolverine and President of the United States of America Gerald Ford. Morgan was also Academic All-Big Ten. With the graduation of Demens, Morgan bumped over to middle linebacker in the spring to make room for rising sophomore James Ross at WILL.
This year the coaches seem to be counting on Morgan to be a leader of the defense. He's a little bit light for the MIKE spot, but he moves well and should be a bit of an upgrade over Demens, in my opinion. I have always had a fairly high opinion of Morgan, and I think he fits better at MIKE than WILL, where he was a little less athletic than desired; for the past couple years, he has been playing slightly out of position to get the best eleven on the field. His backup should be sophomore Joe Bolden, a quality player in his own right, albeit somewhat inexperienced. Jake Ryan is the star on the outside, and Ross is an up-and-comer on the weakside, but I believe Michigan fans will be very satisfied with the play from the middle linebacker position.
Prediction:
Starting middle linebacker; 85 tackles, 2 sacks, 1 interception