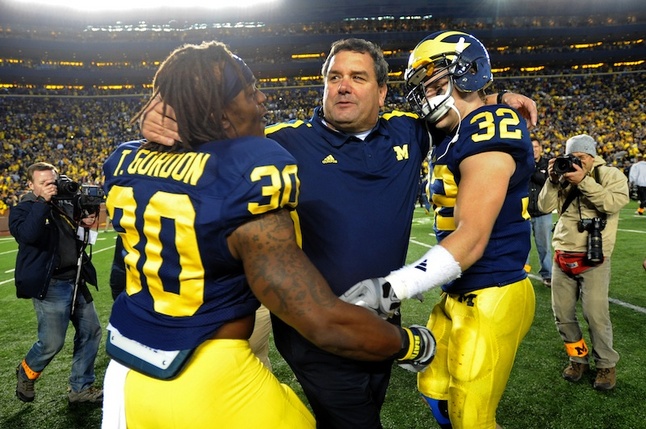 Thomas Gordon with Brady Hoke and Jordan Kovacs
Name:
Thomas Gordon
Height:
5'11"
Weight:
210 lbs.
High school:
Detroit (MI) Cass Tech
Position:
Safety
Class:
Redshirt senior
Jersey number:
#30
Last year:
I ranked Gordon #10 and said he would start at free safety with 70 tackles and 2 interceptions
. He started at free safety and had 81 tackles, 4 tackles for loss, 1 sack, 2 interceptions, 2 pass breakups, and 1 forced fumble.
Gordon has been starting in some capacity since his redshirt freshman season, and entered last season as a steady hand at free safety after posting 67 tackles and 4(!) fumble recoveries in 2011. He did not disappoint, although he wasn't quite the turnover machine he was two seasons ago. He managed to pick off Purdue and Nebraska, but he was taken advantage of a little bit in the passing game at times. Not blessed with blazing speed or great size, Michigan's safeties (along with the now departed Jordan Kovacs) were a little lacking in ideal physical traits. Both probably project best to strong safety, but it was necessary to put the two best safeties on the field; Gordon just happened to be the one playing more out of position. He did fine, as you can see from the statistics above, but he wasn't the standout one might expect from a long-time starter.
Going into his fifth year, Gordon has taken on a leadership role and is likely to be named the defensive captain. He is one of the most indispensable members of the unit with depth somewhat lacking at safety. The backup could be anyone from redshirt junior Josh Furman - who has not been impressive at anything except punt coverage - to true freshman Delano Hill. If Gordon were to go down, we might see a safety combination of senior Courtney Avery and sophomore Jarrod Wilson at safety, two somewhat talented guys who are pretty inexperienced at playing safety. Gordon might be the glue that holds the defense together, and losing him for any stretch in Big Ten play could be quite detrimental. He may not be an all-conference player when everything is said and done because he doesn't make the big hits or highlight-reel returns, but we could see him on the Honorable Mention list and winning some team awards after the season.
Prediction:
Starting strong safety; 85 tackles, 2 interceptions