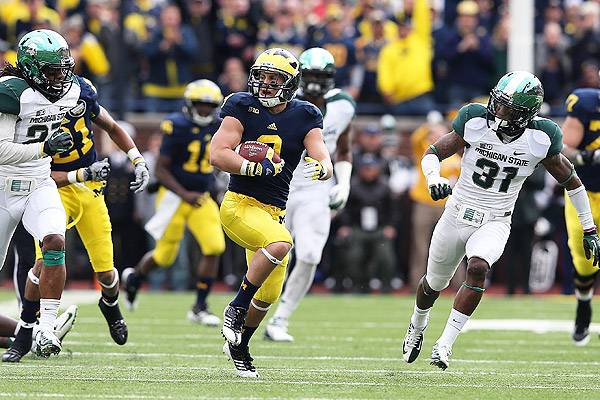 Drew Dileo
Name:
Drew Dileo
Height:
5'10"
Weight:
180 lbs.
High school:
Greenwell Springs (LA) Parkview Baptist
Position:
Wide receiver
Class:
Senior
Jersey number:
#9
Last year:
I ranked Dileo #36 and said he would make 12 receptions for 150 yards and 2 touchdowns, along with being the holder, a backup receiver, and a part-time returner
. He had 20 receptions for 331 yards (16.6 yards/catch) and 2 touchdowns, 1 carry for 7 yards, 2 punt returns for 22 yards, and 4 kickoff returns for 67 yards.
This Dileo kid is one of those guys that's fun to have on the football team, not because he's great but just because he's a football player. Look at those statistics up above. Receiver, runner, holder, punt returner, kickoff returner . . . . You get the sense that you're in parks and recreation football, and Dileo's just the best all-around athlete, so you give him the football all the time just because you know good things will happen. Except this isn't parks and rec. Those statistics aren't flashy, and yet 16.6 yards a catch ain't half bad.
This year Dileo will likely reprise his role as the holder and jack of all trades, and it would be nice to see him play some defensive back so I can label him the Shane Halter of Michigan football. There's a wide receiver spot left open by the graduated Roy Roundtree, but Dileo - Michigan's second leading returning receiver - probably won't take that vacated spot. He'll work from the slot and be a backup, but he could improve on those receiving totals with Devin Gardner throwing the ball for the entire year; both of his touchdown receptions last year came from Gardner. There will also probably be a trick play or two for Dileo as the holder, and the coaches will throw him a bone once in a while with a punt or kickoff return. He even has a chance to win the punt return duties if the coaches relieve Jeremy Gallon of those duties and want a sure-handed replacement. I think the battle will be determined by how well Dennis Norfleet - a faster and more electric returner - can make decisions and catch the ball.
Prediction:
Starting holder; backup receiver and returner; 25 receptions, 375 yards, 4 touchdowns