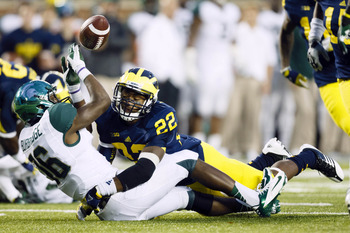 Jarrod Wilson
Name:
Jarrod Wilson
Height:
6'2"
Weight:
200 lbs.
High school:
Akron (OH) Buchtel
Position:
Safety
Class:
Sophomore
Jersey number:
#22
Last year:
I ranked Wilson #56 and said he would be a backup free safety
. He had 8 tackles and 1 fumble recovery.
Wilson's first season in a Michigan uniform was a little bit forgettable. He earned the role of the backup free safety, backing up Thomas Gordon for most of the year. He also played some in nickel situations when the coaches brought in a third safety instead of a third cornerback. However, there were some missed tackles, poor reads, etc. that allowed big plays. There was a bit of a flash against the South Carolina game when Wilson got caught too shallow but then showed great recovery speed. Rumors flowed during the spring that the coaches were working on helping Wilson regain some of the confidence he had lost during the season, but the physical skills are obviously there.
Wilson should be the starter at one of the safety spots this year, although the safeties were trading responsibilities at times during the spring game. His starting position is almost guaranteed at this point. I have always liked his speed, range, and ballhawking ability, and I think he can be a very good safety, but we'll see how quickly that becomes true. Playing safety as a true freshman is always difficult, and I prefer when freshmen get redshirted at the position, but that wasn't the case last year. Now that he has some experience, has watched himself on film, and knows how well he matches up athletically with other players around the Big Ten, he should be significantly improved this season.
Prediction:
Starting free safety; 40 tackles, 2 interceptions