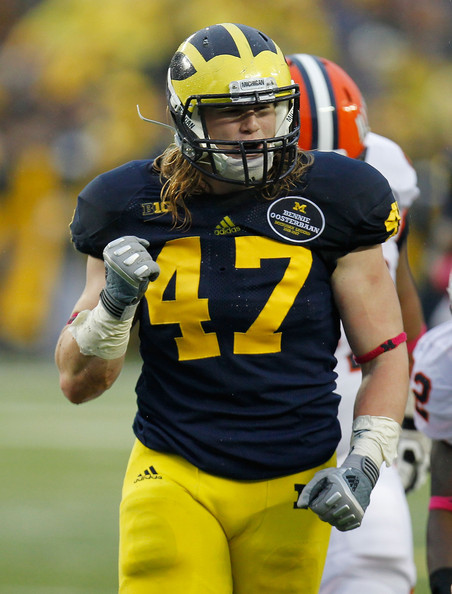 Jake Ryan
Name:
Jake Ryan
Height:
6'3"
Weight:
240 lbs.
High school:
Cleveland (OH) St. Ignatius
Position:
Linebacker
Class:
Redshirt junior
Jersey number:
#47
Last year:
I ranked Ryan #12 and said he would be the starting SAM with 45 tackles and 5 sacks
. He had 88 tackles, 16 tackles, 4.5 sacks, 4 forced fumbles, 1 fumble recovery, and 3 pass breakups.
Ryan went from a pretty good player in 2011 to a star in 2012. Opposing players recently stated at Big Ten Media Days that Ryan was the guy their offense always liked to identify before every snap. You can see why with statistics like that; while not out of this world, they're certainly noteworthy, and he was named All-Big Ten Second Team because of his performance. Against Michigan's two biggest conference foes (Michigan State and Ohio State, naturally), Ryan totaled 19 tackles, 3 tackles for loss, 2 sacks, and 3 forced fumbles. Unfortunately, he tore his ACL at the beginning of spring practices and missed the entire spring session.
If he were healthy, Ryan would be ranked quite a bit higher. I struggled with where to place him, because he'll probably be out until sometime in October or perhaps November. How high or low do you rank your best defensive player . . . who's bound to miss at least half the season? Michigan has a bunch of solid players on defense, but none of them are proven playmakers. Jordan Kovacs could make the big tackles, but he wasn't a turnover machine. Blake Countess has yet to make an interception in college. Thomas Gordon made a bunch of turnovers two years ago, but he hasn't been consistent. Someone will need to step up and make game-changing plays until Ryan returns from injury. Maybe it will be Countess or Gordon or Frank Clark or James Ross, but we know Ryan can be that guy when healthy. I expect to see a little bit of a drop-off in Ryan's production when he returns, so he probably won't be quite the same player this year; he was also a guy who could have been an early NFL Draft entrant after this season, but he'll probably need to return in 2014 to showcase his talents. Still, if he comes back on schedule in October, I think he'll be able to wreak a little bit of havoc here and there.
Prediction:
Starting SAM when healthy; 35 tackles, 3 sacks