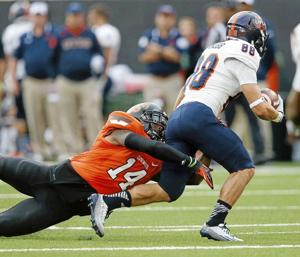 Josh Furman (#14) had 2 sacks this week
Former DT Richard Ash:
Ash had 2 tackles in Western Michigan's 45-33 win over Idaho.
Former TE commit Pharaoh Brown:
Brown had 4 catches for 46 yards in Oregon's 48-14 victory over Wyoming.
Former CB commit Gareon Conley:
Conley had 1 tackle as Ohio State beat Kent State by a score of 66-0.
Former CB commit Dallas Crawford:
In Miami's 41-20 win over Arkansas State, Crawford had 5 tackles from his safety position.
Former S Joshua Furman:
Furman had 6 tackles, 2 tackles for loss, 2 sacks, and 1 pass breakup in Oklahoma State's 43-13 victory over the University of Texas-San Antonio. He's been impressing as a starting outside linebacker for the Cowboys.
Former RB commit Demetrius Hart:
Hart's Colorado State team beat UC-Davis by a score of 49-21. Hart had 8 carries for 38 yards, 3 catches for 34 yards, and 2 punt returns for 4 yards.
Former RB Thomas Rawls:
For undisclosed reasons, Rawls did not play in Central Michigan's 40-3 loss to Syracuse. UPDATE: Rawls allegedly was involved in stealing a purse at a casino and subsequently using the stolen credit card to buy gasoline and sub sandwiches.
Former head coach Rich Rodriguez:
Arizona eked out a 35-28 win over Nevada, which moves the Wildcats to 3-0. Anu Solomon completed 22/26 passes for 3 touchdowns and 1 interception. Running back Nick Wilson had his second straight performance of 170+ rushing yards, with 28 carries for 174 yards and 2 scores.
Former S Ray Vinopal:
In Pitt's 42-25 win over Florida International, Vinopal had 3 tackles and 1 quarterback hurry.
Former CB commit Adrian Witty:
Witty had 3 tackles in Cincinnati's 58-34 win over Toledo.
Former WR Csont'e York:
York has enrolled as a student at Toledo, but he is not yet a part of the football program. I imagine he will play football at some point unless the court throws the book at him for the assault that got him kicked out of Michigan.