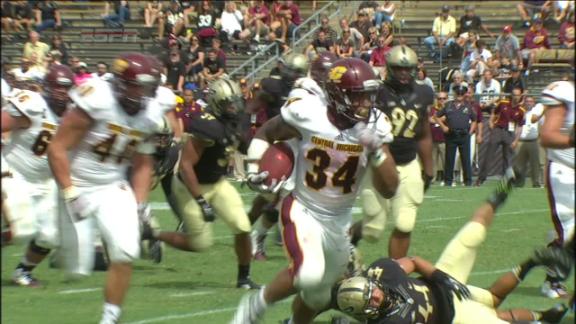 Thomas Rawls (#34) had 155 yards and 2 touchdowns this week
Former CB Cullen Christian:
Christian had 2 tackles in West Virginia's 54-0 demolishing of Towson.
Former CB commit Gareon Conley:
Conley had 2 tackles as #8 Ohio State lost to unranked Virginia Tech by a score of 35-21.
Former CB commit Dallas Crawford:
In Miami's 41-7 win over Florida A&M, Crawford - now a safety - had 2 tackles.
Former S Joshua Furman:
Furman had 5 tackles, 2 tackles for loss, and 1 pass breakup in Oklahoma State's 40-23 win over Southwest Missouri State.
Former K commit Matt Goudis:
Goudis was 2/4 on field goals and 5/5 on extra points in Miami's 41-7 win over Florida A&M.
Former RB commit Demetrius Hart:
Hart's Colorado State team lost to Boise State by a score of 37-24. Hart had 10 carries for 16 yards and 2 catches for 17 yards.
Former RB Thomas Rawls:
Rawls, a Central Michigan Chippewa now, had 31 carries for 155 yards and 2 touchdowns (from 2 and 16 yards), plus 3 catches for 50 yards. Central Michigan beat Purdue by a score of 38-17.
Former head coach Rich Rodriguez:
Arizona barely pulled out a 26-23 victory over the University of Texas-San Antonio, which would have been an embarrassing loss for the Wildcats. UTSA pulled within a field goal with over seven minutes remaining in the game, but they couldn't finish off the comeback. Running back Nick Wilson ran for 174 yards and 1 touchdown, while wideout Cayleb Jones caught 4 balls for 143 yards, including an 85-yard touchdown on the first play of the game.
Former S Ray Vinopal:
Vinopal had 5 tackles and 1 interception, which he returned for 13 yards, in Pitt's 30-20 win over Boston College.