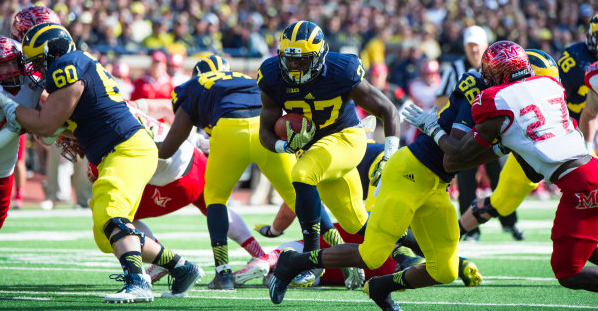 Derrick Green
Let's see more of this guy on offense . . .
Derrick Green. He saw plenty of action this past Saturday, but he looked pretty darn good. Green ended the game with 22 carries for 137 yards and 2 touchdowns. Granted, Michigan has played two patsies so far in the form of Appalachian State and Miami, but Green is on pace for 200 carries, 1,228 yards, and 12 touchdowns. That pace won't hold up, but he showed nifty feet and improved vision from the past couple weeks. He also got stronger as the game went on and started to run through some tackles. I was okay with the distribution of carries in this game, but it seems like Green is separating himself from De'Veon Smith. On a side note, Smith's body language suggested to me that he is none too happy about playing second fiddle to Green. I think that dynamic may be interesting to watch as their careers develop.
Let's see less of this guy on offense . . .
Amara Darboh. I only say this because I want Devin Funchess back on the field. Darboh is a complementary receiver, and while he led Michigan in receptions and yardage, he just looks raw in several ways - route running, running after the catch, etc. He will improve over time, just like Jehu Chesson did last year, but Darboh's not ready to be a featured receiver.
Let's see more of this guy on defense . . .
Blake Countess at nickel corner. My current feeling on the cornerback situation is that Michigan needs guys on the outside who can play press coverage, like Jourdan Lewis, Jabrill Peppers, and perhaps Raymon Taylor. It's tougher to play press man on slot receivers because of their alignment and such, so perhaps Countess would be better off inside.
Let's see less of this guy on defense . . .
Delonte Hollowell. Hollowell didn't play a lot against Miami, but he played enough to get beaten for another touchdown on an out route. That's the second week in a row, and teams are probably going to continue to test him out there. He's best deployed as a special teamer, and he just doesn't have the quickness to be effective at corner, in my opinion.
Play of the game . . .
Jake Butt's 29-yard touchdown catch. On a fake tunnel screen, Butt hit the corner and then turned upfield. Miami's secondary bit on the pump fake, and Gardner's pass was a wee bit too far. Butt was able to tip it to himself and jog into the endzone with no RedHawks in sight. That was the first time Michigan has shown the play so far, and they probably would have liked to have saved it for later in the year against a more formidable opponent, but Michigan was up just 17-10 at the time and it helped the Wolverines pull away.
MVP of the game . . .
Derrick Green. There aren't many choices here on a team that was missing several key players - safety Jarrod Wilson, wide receiver Devin Funchess, and cornerback Raymon Taylor - and couldn't put away a MAC team on an 18-game losing streak. The Wolverines had some trouble getting open, protecting Gardner in the pocket, and getting Gardner on the edge, so Green's running was a big key in helping Michigan pull away in the second half.