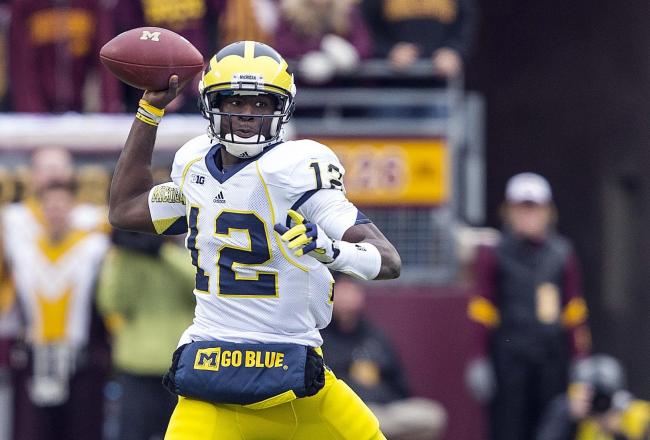 Devin Gardner was solid in replacing injured starter Denard Robinson (image via Bleacher Report)
Thanks goodness for Devin Gardner.
I am fairly confident that Russell Bellomy could not have duplicated Gardner's performance from yesterday. The junior wide receiver/quarterback finished 12/18 for 234 yards, 2 touchdowns, and 1 interception; he also ran 10 times for 21 yards and 1 touchdown. Gardner obviously isn't the same type of electrifying runner that Denard Robinson is, but that passing performance was pretty much on par with anything Robinson has done this year. Gardner had three passes of 45-plus yards and did a great job of keeping plays alive with his feet. There are still things to improve (the one INT was a poor decision, he holds onto the ball too long sometimes, etc.), but he looked much more ready to play QB than Bellomy has at any point. This should give Michigan fans hope. And I know I beat this drum a lot, but how much more excited would you be if Gardner were a redshirt sophomore instead of a true junior? That burned redshirt in 2010 really irks me . . .
Michigan's receivers stepped up when needed.
This was something we haven't seen in the past few weeks, but I don't remember a single drop in this game. The receivers pulled in some nice receptions, including Jerald Robinson's sliding 22-yarder and a couple balls caught in traffic by Jeremy Gallon, Drew Dileo, and Roy Roundtree. Gardner has a stronger arm than Bellomy, and I think the receivers are probably a little more comfortable catching Gardner's darts than Bellomy's soft tosses.
Here is where I grumble about cornerbacks.
Teams have been picking on J.T. Floyd for the past few weeks, and once again he was beaten several times. Minnesota freshman quarterback Philip Nelson missed on several, but sometimes it didn't matter because Floyd bailed him out by getting called for pass interference two or three times. Raymon Taylor didn't have a great game, either, and picked up a pass interference call himself. I am looking forward to a time when Michigan can put two solid corners on the field at the same time. Taylor has a chance to be one, but it's been a while since the Wolverines had two.
Don't say Michigan never gets the benefit of refs' poor calls.
Jeremy Gallon's 10-yard touchdown catch wasn't a catch; the ball was moving in his hands the entire time. Roy Roundtree's 47-yard catch probably wasn't a catch; the ball was moving the entire time. However, both of them were called completions on the field, and they were difficult to overturn. In both cases, if they had been called incomplete on the field, I think they would have been upheld as being incomplete.
Jake Ryan wheee!
Ryan struggled a little bit early in the game, but he turned it on afterward. He finished the game with 9 tackles and 3 tackles for loss. The speed at which he plays for a guy who's 6'3", 242 lbs. is pretty ridiculous. He now has 65 tackles and 12 tackles for loss, both numbers surpassing what he did in 2011 (37 tackles, 11 tackles for loss).
The future of the defensive line is bright.
I was very concerned about Michigan's defensive line coming into 2012 after Mike Martin and Ryan Van Bergen graduated, and those two have certainly been missed. The drop-off at strongside end hasn't been very noticeable with Craig Roh playing fairly well, but Martin has certainly been missed at nose tackle. However, Michigan has several guys starting or in the rotation who should return next season, so they should be able to maintain this level of play. Weakside ends Brennen Beyer and Frank Clark, defensive tackles Quinton Washington and Ondre Pipkins, and strongside end Keith Heitzman all look solid, and that's not to mention the incoming freshmen or the redshirting freshmen (Chris Wormley, Tom Strobel, Matt Godin, Willie Henry).
Working on Saturdays is lame.
There's just not the same level of excitement when you know you could just fast forward the DVR and see the final score. On the plus side, I could fast forward during timeouts and between plays so I didn't have to listen to the Big Ten Network's terrible announcers. Sometimes Chris Martin talks just to hear himself, and he says very little of substance. He does a good job of discussing defensive back play, but anytime the discussion wanders into the other 18 positions on the field, he's mute-worthy.